Shadow Education Secretary and Shadow Universities Minister visit Sussex campus 
By: Sean Armstrong
Last updated: Friday, 1 October 2021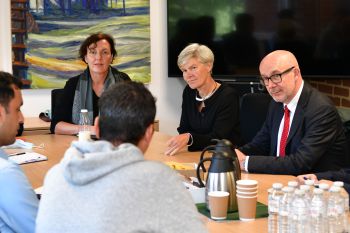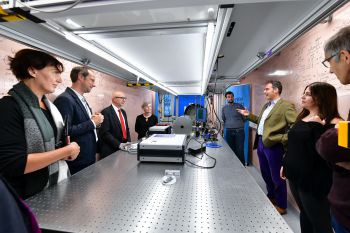 The Shadow Secretary of State for Education, Kate Green MP and Shadow Minister for Universities, Matt Western MP, took a break from the Labour Party Conference in Brighton to meet with members of the University of Sussex senior leadership team, quantum physicists and Afghan Chevening scholars on campus on Tuesday morning. 
University of Sussex Provost, Professor Rachel Mills, Pro Vice-Chancellor of Education and Students, Professor Kelly Coate and Director of Student Experience, Jayne Aldridge met with the Shadow Secretary and Shadow Minister to welcome them to campus and discuss the University's work in supporting students during Covid and in the return to face-to-face teaching this term.   
Shadow Minister for Higher Education, Matt Western, said: "My visit to the University of Sussex, particularly the Quantum Physics Lab, was an excellent insight into the credible work of our universities and their wider benefits.
"It was both moving and inspiring to speak with Afghan students with Chevening Scholarships. They have shown incredible bravery after being forced to leave their families behind to escape Taliban violence.
"They are wonderful additions to UK society and ambassadors for the University.
"But their relatives and many former scholars have been abandoned by the UK Government - and they must be supported to safely flee Afghanistan as soon as possible."
Provost Rachel Mills said of the visit: "It was wonderful to be able to welcome Shadow Education Secretary, Kate Green MP and Shadow Universities Ministers, Matt Western MP to the Sussex campus at a time when it has been reinvigorated by the return of our students. 
"I was excited to take our visitors to the Quantum Sensor Labs where we met staff and students who are applying novel technology in innovative and interdisciplinary ways. 
 "It was also particularly poignant to introduce them to some of our new Afghan Chevening scholars, who shared their remarkable stories and their passion for access to education to underpin the future of their country." 
As part of the visit Kate Green and Matt Western were given a tour of the Quantum Accelerator Building to find out more about the cutting-edge research taking place at Sussex. Professor of Experimental Physics, Peter Kruger and his team explained how they are working to harness the power of quantum to bring about developments in healthcare and green energy through industry partnerships.
During the tour they met students from the Quantum Systems and Devices group, including Poppy Joshi, who started her PhD in quantum sensors that day, having started out on a foundation year at Sussex. 
Poppy said of her exciting first day as a postgraduate student: "I have gained so much from my time at Sussex coming through the foundation year and completing my physics degree whilst taking on quantum summer projects.  
"It is great to finally be here as a PhD student taking all the theory I have learnt in my lectures and putting that into practice in a lab that works on quantum technologies for real world applications.  And what a brilliant first day meeting the Shadow Secretary and Minister and sharing my story."
The visit concluded with a meeting with five of Sussex's Afghan Chevening scholars, joined by Sussex Student Union International Officer, Caitlin Ung who welcomed the students on behalf of the Sussex Students Union.

The scholars spoke movingly about how much the opportunity to study at Sussex under the prestige of the Chevening award means to them, about fears for their loved ones in Afghanistan, and about their hopes for how their studies might help them bring about positive change for the future of their homeland.  
Nine students in total from the UK Government's Chevening programme have arrived from Afghanistan this term to study at the University of Sussex and the Institute of Development Studies. The University has launched the Sussex Fund Afghan Appeal to provide any additional support they may need.