Nobel Laureate Sir Harry Kroto to be remembered with chemical landmark blue plaque event
By: Jessica Gowers
Last updated: Thursday, 19 May 2022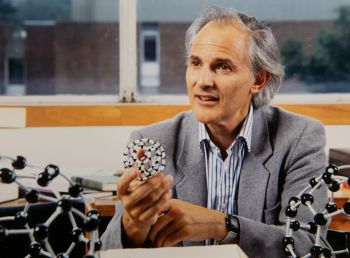 To honour Sir Harry Kroto's incredible contributions to science, the Royal Society of Chemistry (RSC) has awarded a chemical landmark blue plaque to the University of Sussex, which will be unveiled at a special event on 17 June 2022.
Professor Sir Harry Kroto FRS was awarded the Nobel Prize for Chemistry in 1996, along with collaborators in the USA, for the discovery of a new form of carbon; Buckminsterfullerene (also known as C60 or Buckyball) and other fullerenes.
It was a discovery which revolutionised chemistry and opened up a world of new opportunities for various industries, from nanotechnology and energy production to medicine.
The RSC chemical landmark blue plaque will be unveiled at an event on 17 June at the University of Sussex campus. The occasion will also include outreach activities for school children and a series of research talks open to staff, students, alumni and friends of the University. Registration for the unveiling and research talks is now open on Eventbrite.
Professor Wendy Brown, Subject Chair for Chemistry, said: "Sir Harry's discovery of the buckyball was one of the most important scientific discoveries in the past half-century and we are really pleased that the RSC has recognised this with a prestigious chemical blue plaque on our campus. The plaque will serve as a long-lasting legacy to Sir Harry and as a reminder as to the work he achieved whilst here at Sussex.
"The event is also a great opportunity to come together and fondly remember Sir Harry and celebrate his achievements, as well as to learn more about recent advances in his exciting field of carbon chemistry. I'm very much looking forward to what promises to be an excellent day!"
The event will recognise Sir Harry's passion for promoting science engagement with a morning of outreach activities for local school pupils, led by his former PhD students, now professional science communicators.
At midday, the blue plaque will be unveiled at a ceremony led by Sir Harry's wife, Lady Margaret Kroto, and Professor Tom Welton, President of the Royal Society of Chemistry and former Sussex Chemistry student.
After a lunch at Bramber House, attendees will go to Chichester Lecture Theatre for a series of exciting research talks from renowned scientists with strong connections to Sir Harry: Dr Jonathan Hare, Professor Mauricio Terrones, Professor Eleanor Cambell and Professor John Maeir.
During the afternoon session, the winner of the Kroto Award for Public Engagement will be announced. This award is granted annually in recognition of Sir Harry's passion for engaging the public with science and is open to staff in the School of Life Sciences. It recognises high quality examples of public engagement with research and the winner will deliver a short talk. The event will end with a drinks reception at 17.30.
The Chemical Landmarks Scheme by the RSC raises awareness of sites where individuals, teams and collaborations within the chemistry community have made significant contribution to health, wealth or quality of life. The RSC recognise these achievements through the awarding of a distinctive blue plaque that highlights key achievements and the impact that the science and discovery has had on local community and society.
The event on 17 June takes place during the University of Sussex's 60th year. Find out more about our history and how we're marking our anniversary.
If you would like to find out more about Sir Harry's research and legacy, read the feature on the University website.
If you are interested in attending the unveiling ceremony and afternoon programme, please register your place on Eventbrite.