Rachel Mills: "I am so proud of all that we have achieved"
By: Sean Armstrong
Last updated: Thursday, 19 May 2022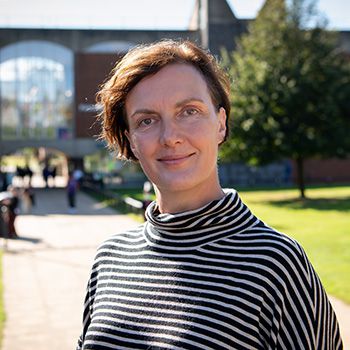 By now I'm sure you'll have heard that I am taking up a new role at King's College London this summer. I have really enjoyed my time at Sussex and I am so proud of all that we have achieved during our 60th anniversary year.
Our Research Excellence Framework (REF) results, which are a real testament to the outstanding contributions from the whole community to our research endeavours, demonstrate that Sussex continues to forge ahead as a research-intensive University. You will have seen many celebrations of these results but the key one for me is that we significantly increased both our submission volume, and its quality. This led to the Times Higher Education (THE) placing Sussex 27th from 129 UK institutions for research power, a real step up from 34th place in 2014.
In other rankings we have also jumped position. The Times Higher Education Impact Rankings have more and more submissions each year and yet we moved up to 37th (from 41st) with an exceptional score for Sustainable Development Goal #17 (Partnerships for the Goals) where we were placed 3rd out of 1406 Universities from 106 countries or regions. This great result is down to the curation of our huge range of our activity by the Sustainability Team and the significant ambition of our Sustainable Sussex Strategy.
Campus biodiversity is top of my agenda this term. Community efforts to support local bee populations were recognised with a Bees' Needs Champion Award, for the fourth year running. #TeamSussex have been raising money for Sustainability projects that will enhance biodiversity both on our campus and in the local region. I ran my first road marathon to raise money for this campaign and we are working now to kick start now a range of projects that emerged as priorities from those crowd sourced as part of the Big Biodiversity Conversation.
Creating a beautiful, high-biodiversity campus is one part of our vision; we are also investing significantly in our infrastructure to create the campus we need to deliver our ambitions for the students and staff of the future. The vision for 'investing in a better Sussex' is being shared through a series of webinars and updates and the enabling works for the West Slope development are already underway. You will hear a lot more about these projects over the next months, in particular how we ensure that we develop our campus in a way that also achieves our net-zero and biodiversity targets.
When I joined Sussex, we were in the midst of the Size and Shape Programme. I have now led this through to near completion, working in partnership with many of you across the institution. As we complete the implementation phase, we are ramping up our investment in people which will grow our reputation as a world-leading centre of research, and to become the university of choice for study and work.
Central to future success is a transparent and effective planning cycle and to this end we have refreshed the annual Academic Business Planning (ABP) process. This means we have kicked off an annual process which ensures full engagement with each Academic area and we are working to ensure that Academic plans are aligned completely with all of the Division plans and other strategic investment initiatives across the institution.
Thank you all for your many different contributions, for being part of the fabulous Sussex community and for making this 60th year such a success.
I look forward to crossing paths with as many of you as possible before my departure at the end of July.
Best wishes,
Rachel
Rachel Mills
Provost