Bridget Edminson leaves Sussex to join Imperial College London
By: Sean Armstrong
Last updated: Friday, 20 May 2022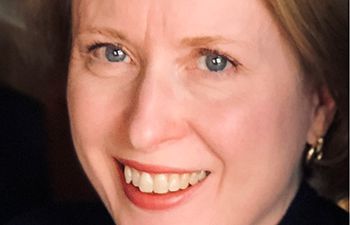 Bridget Edminson, General Counsel and Director of Governance and Compliance, will be leaving Sussex in August to take up the role of Director of Legal and Regulatory Services at Imperial College London.
Bridget was Sussex's first General Counsel in 2018, and since then has assumed responsibility for a range of institutional compliance functions, and has led the University's Covid response. Bridget was instrumental in the University receiving the Freedom of the City of Brighton & Hove, being commended by the Cabinet Office, and receiving two Higher Education Business Continuity (HEBCoN) awards in consecutive years for our sector-leading response to Covid.
The last two HEBCoN awards were for the development of our Covid reporting app and Track & Trace system, which helped us to better manage and contain the virus on campus, and the top award for Incident Management, in recognition of how we handled challenging aspects of the pandemic.
Bridget has overseen the development of a central legal function that advises on around 40 substantive areas of law, and she also established a compliance portfolio to ensure that the University continues to comply with a broad range of legal, regulatory and statutory requirements.
Bridget has also led our sector leading response to UUK guidance on international security related risks on internationalisation, and is SRO of the University's Cyber Security Programme.
In 2018 Bridget developed the ex-gratia scheme for student complaints arising out of industrial action, supporting Sussex to be the first university to provide such a scheme for students who were impacted by the industrial action.
During her time, as Chair of the UK Visa & Immigration (UKVI) Steering Group and UKVI Authorising Officer, Sussex passed a Home Office audit into our UKVI obligations and processes, safeguarding our Student Visa Sponsor status, meaning we can sponsor international students to obtain a student visa to study here. To maintain this status, we have to comply fully with UK Immigration Rules and Student Sponsorship guidance.
Tim Westlake, Chief Operating Officer said: "Bridget has been instrumental in leading Sussex through the pandemic and under her guidance we were able to ensure the safety of our community. She has transformed the legal and compliance horizon of the University, and leaves us in much better position than when she joined Sussex. We wish her all the best in her new role."
"Bridget said: "I am very proud of what I have achieved with my teams at Sussex. I have really benefitted from my time here and have worked with some incredible colleagues who have transformed our legal and compliance capabilities. As a University we are now in a much better position to meet the regulatory standards required of us."
Interim arrangements will be put into place until a permanent replacement has been recruited.