Wishing you a lovely summer
By: Maria Balboa Carbon
Last updated: Thursday, 26 May 2022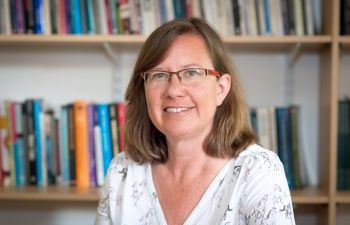 Earlier today, Kelly Coate Pro Vice-Chancellor for Education and Students emailed all taught students. You can read the full message below:
Dear students,

As we approach the end of the academic year, I would like to wish you a fantastic summer. I expect if you're a finalist you will be excited as you look forward to a new chapter in your life which may be beginning a new career or continuing with your studies. Wherever you go and whatever you do I wish you all the very best, and I hope that you remember your time at Sussex with great fondness as you look to what I hope will be a bright and happy future.

You might be finishing your time here, but you will always be part of Sussex. Please do join our Alumni Network and enjoy free membership services such as careers support and our online mentoring and networking platform Sussex Connect.

For those of you who will be continuing your studies, I hope you have the chance to get a break over the summer and I look forward to welcoming you back in September.

In the meantime, I will continue sending updates with relevant information for you, so keep an eye on your Sussex email address every now and then. Remember that the Student Hub is your first point of information about the University and you can also check the news section to keep up-to-date on University matters over the summer.

Read on for this week's update
Your way forward after Sussex
Marking and assessment boycott
Spirit of Sussex Awards Celebration
Brighton Festival discount offers for students
Your way forward after Sussex
The online series Your Way Forward started yesterday and will run until the end of June. These workshops will provide you with resources and support to help you prepare for life after Sussex.

Although the series is targeted at finalists, the events are open to all students.
Book your place now.


Marking and assessment boycott
On Monday 23 May members of the University and College Union (UCU) started an ongoing marking and assessment boycott as part of their national action.

I want to again assure you that we will do all that we can to ensure we mitigate any impact on our students' education and assessment and examination results caused by a marking and assessment boycott activity at Sussex.

We'll keep the Student Hub updated with the latest information.


Spirit of Sussex Awards Celebration
You still have time to book your place at the Spirit of Sussex Award Celebration on 8 June. The event will recognise the many achievements of almost 500 awardees.

You can expect catering, networking opportunities, fun activities, and an array of inspiring talks from alumni, staff, student connectors and special guest speaker Dominic Arnall, Chief Executive of Just Like Us.


Brighton Festival discount offers for students
Finally, as I mentioned previously Sussex is a sponsor of the Brighton Festival – one of the largest arts festivals in Europe. If you haven't been able to go to any events yet, this is your chance. The University is sharing new discount ticket offers to events during the final week of the festival.

Have a lovely summer,

Kelly

Kelly Coate
Pro Vice-Chancellor for Education and Students