Update from the Vice-Chancellor
Posted on behalf of: Internal Communications
Last updated: Tuesday, 5 July 2022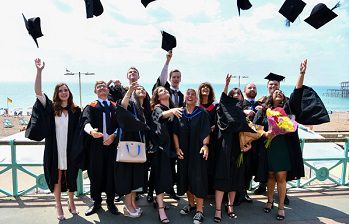 On Monday 4 July, Interim Vice-Chancellor David Maguire wrote to all staff. You can read the message below:


Dear colleague,
After months of preparation, and years of anticipation, our largest ever Summer Graduation is about to begin. It will be a great honour for me to open the first of our 41 ceremonies tomorrow (Tuesday) at the Brighton Centre for both new graduates and those whose ceremonies were postponed because of the pandemic. I know how hard the Graduation and Corporate Events team has worked to pull this together, and that many of you will be attending and have offered to assist throughout the next three weeks. I am sure we will all find it an exhilarating and an emotional experience. Many of the graduates have been telling us how happy they are to finally celebrate and be reunited with their classmates.
During the ceremonies, we have a host of inspiring honorary degree recipients who will be imparting some of their wisdom. Many of them are Sussex alumni and former members of staff, and I am looking forward to hearing more about their achievements – and their memories of Sussex. I would like to remind all of you that any member of staff can submit nominations for honorary degrees. You can find out more about the criteria here. The Honorary Degrees Committee of the University meets to discuss nominations in September, which gives you just a few weeks to suggest individuals whom you feel deserve special recognition by the University.
In the meantime, members of the University Executive Group are leading negotiations with the six workstreams (equalities, pay and contracts, doctoral tutors, workload, post 6pm teaching, and living wages) that we have agreed with UCU following the recent agreement. We have agreed a 16-week timetable for these discussions, but realistically several of these topics are quite complex and will take longer to reach conclusions. Nevertheless, we are already making good progress and I am hopeful that real improvements can be made in work conditions.
You will have read last week that, sadly, our Director of HR, Siobhan O'Reilly, is leaving us at the end of September. Siobhan has done a brilliant job leading on our new People Strategy, which will support the changing needs of the University. While it is always difficult to say good-bye to colleagues whom we value, trust and enjoy working with, it also means the door is then opened to new people and new relationships. I gave a 'welcome' presentation to 90 new members of staff last week, which shows that Sussex continues to be a desirable place to work. If you are one of the new faces, I hope you are settling in well and enjoying being part of this great community.
Warm regards,
David Maguire
Interim Vice-Chancellor