David Ruebain receives Honorary Doctorate for contribution to equality
Posted on behalf of: Internal Communications
Last updated: Friday, 21 October 2022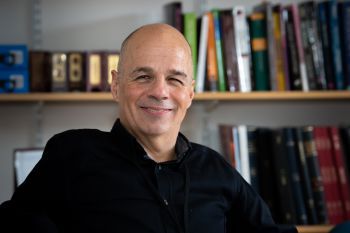 An alumnus of the University of Law when it was known as the College of Law, and where he studied for his professional legal qualifications, David has received the award in recognition of his outstanding contribution to equality, diversity and inclusion and the furtherance of human rights for disabled people.
David said: "I am delighted to be honoured by the University of Law and am very grateful to the University's Academic Board for their kind recognition. It is very much an unexpected honour. My time at the College of Law and subsequent career as a lawyer and practitioner galvanised my interest and work in transformational change, which makes this honour significant."
As Pro-Vice-Chancellor (Culture, Equality and Inclusion), David has strategic responsibility for all aspects this work at Sussex. David is a Professor of Culture, Diversity and Inclusion in the School of Law, Politics and Sociology.
David is a past winner of Royal Association for Disability Rights (RADAR) People of the Year Award for Achievement in the Furtherance of Human Rights of Disabled People in the UK. In 2003, he was shortlisted for the Law Society's Gazette Centenary Award for Lifetime Achievement – Human Rights. He has also been listed as one of 25 Most Influential Disabled People in the UK by Disability Now Magazine, in the Disability News Service's "Influence Index" and the Disability Power Lists, October 2014.