Professor Susie Scott awarded Fellowship of Academy of Social Sciences
Posted on behalf of: Internal Communications
Last updated: Wednesday, 28 September 2022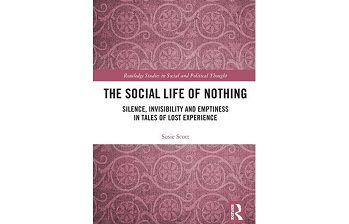 After nomination and assessment by her peers, Professor Susie Scott has been conferred the Award of Fellow of the Academy of Social Sciences. All Academy Fellows are conferred following independent and robust peer review by the Academy's Nominations Committee. They are selected on the basis of the substantial contributions they have made to social theory, policy and practice, and for going above and beyond the normal requirements of their roles.
The Academy's Fellowship is made up of distinguished individuals from academic, public, private and third sectors, across the full spectrum of the social sciences. Through leadership, scholarship, applied research, policymaking, and practice, they have helped to deepen the understanding of, and address, some of the toughest challenges facing our society and the world.
Professor Scott specialises in the micro-sociological perspectives of symbolic interactionism and Goffman's dramaturgy. She applies this theory to questions of self-identity, social interaction and everyday life, using interviews, narrative and life-story methods. Susie has conducted empirical research studies of shyness, asexuality, performing artists and swimming pools. In the domain of social theory, she has revisited Goffman's classic model of the total institution, introducing her own concept of the reinventive institution. Recently, Susie has been developing an original programme of research to create a new field of study: 'the sociology of nothing'. This has involved gathering personal stories about unlived lives, lost opportunities and roads not taken. Susie received funding for her project from the Leverhulme Trust; together with Research Fellow Dr Nina Lockwood, she is collaborating with the Mass Observation Archive. Susie also has an interest in emotions and mental health and works as a psychotherapeutic counsellor.
Susie is the author of over 40 journal articles and six research-based books: Shyness and Society (2007), Making Sense of Everyday Life (2009), Total Institutions and Reinvented Identities (2011), Negotiating Identity (2015), The Social Life of Nothing (2019), and (with James Hardie-Bick) Ex-treme Identities and Transitions out of Extraordinary Roles (2022). She teaches modules on Identity and Interaction, Sociology of Emotions and Mental Health, and the Sociology/Criminology dissertation.
Susie said: "I am delighted and honoured to be conferred as a Fellow of the Academy of Social Sciences. With the current academic climate being so focused on structural questions of power, inequality and social justice, it is important not to lose sight of smaller-scale phenomena: identity, subjectivity and personal experience. My research aims to highlight how these latter processes help to make us human, giving meaning to the changing social worlds in which we live."