VC reflections: the academic life cycle
By: Sean Armstrong
Last updated: Monday, 26 September 2022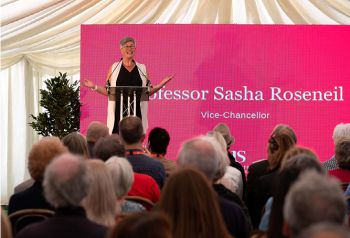 Vice-Chancellor Sasha Roseneil emailed all staff today (26 September). You can read the full message below:
Dear colleague,

Capturing perfectly the cycle of academic life, my second month at Sussex began with the Alumni Reunion Weekend, the grand finale of the University's 60th anniversary celebrations, and is ending, as the seasons change, with the buzz and energy that accompanies the arrival of 5,000 new students on campus.

The Reunion Weekend proved to be a fantastic introduction to Sussex for me, and a wonderful event for our alumni. Over 400 former students from across the decades and from around the world returned to Sussex for a highly convivial weekend of socialising, reminiscing, and reconnecting with each other and the University. There was a superb programme of 'TEDx' type talks by academics, visits to Schools and Departments, campus tours, walks on the downs, a multi-faith thanksgiving service and a meditation session in the Meeting House, shared meals, a pub quiz, and late-night drinking and dancing in Falmer House, as well as an opportunity to visit the 'Sussex in 60 Objects' exhibition. On the Saturday evening I hosted a reception in a rather glamorous marquee outside the ACCA, which ended with a breathtaking performance by an abseiling 'vertical dancer', on the walls of the ACCA.
The reception, and the dinner afterwards at Eat Central, gave me the opportunity to meet dozens of alumni, to hear stories of their student days, and to talk with them about the varied and interesting paths they took after Sussex. Many of them spoke to me about what it was like to have been the first in their family to go to university in the '60s and '70s, and about how Sussex had opened their minds to the world, enabling them to do things they could never have imagined without the interdisciplinary challenge and academic support, the friendship networks and the freedom of expression that Sussex had offered them. I was told about the impact of particular academics on individuals' intellectual and personal development, and I heard repeated expressions of gratitude to Sussex and its staff. The profound affection - passion even - for Sussex in its singularity that was conveyed to me that weekend was remarkable, and very different in spirit from how I have heard alumni of other universities talk about their alma mater.

Continuing to extend my understanding of the impact that Sussex has had on culture, society, and individual lives, last Thursday I had the enormous pleasure of speaking at the launch event of the new 'Black at Sussex' programme at the Black Cultural Archives in Brixton. Part of our 'Inclusive Sussex' strategy and our commitment to building an anti-racist university, Black at Sussex is funded for five years, and is designed both to explore the history and legacies of the many brilliant Black alumni of Sussex, and to improve the sense of belonging and inclusion of current and future Black students and staff. Now a major British cultural institution, the Black Cultural Archives (BCA) was founded by Sussex alumnus Len Garrison, and Marie Garrison, Patron of the BCA, and Len's widow, spoke at the launch, along with Sussex alumni artist Topher Campbell, writer Michael McMillan, and poet Jenny Williams, and current student Valerie Kpoyre. As I listened to the speakers, I was struck by the extent to which Sussex has been the site and generator of enormous political and cultural creativity and how formative Sussex's distinctive intellectual environment had been for those attending.

This is all vital learning for me, as I embark on my first year at Sussex. Over the coming weeks and months, I am looking forward to meeting as many of you as possible at a range of engagement events. I am particularly keen to talk in-person and I would like to invite anyone who hasn't yet signed up to attend the 'all-staff' meeting on Tuesday 4 October to do so. If you can't make this event, there will be other opportunities in the near future, as I will be attending meetings in Schools and PS divisions and hosting themed lunches to discuss a range of topics.

In the meantime, I wish you all a smooth start to what I hope will be a productive and creative new academic year, and I would like to extend a warm welcome to the Sussex community to everyone reading this who is newer to Sussex than I am!

With my very best wishes,

Sasha

Professor Sasha Roseneil
Vice-Chancellor