Your wellbeing: not 'goodbye' but 'see you later!'
By: Sean Armstrong
Last updated: Friday, 30 September 2022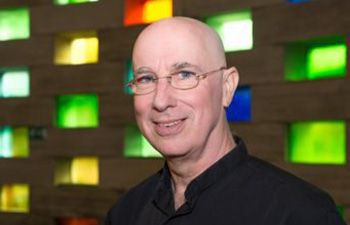 Just over nine years ago I took the train from London for an interview at Sussex for the post of Lead Chaplain – now styled, 'University Chaplain & Lead Faith Advisor'. Later that day, I received the offer of the job, which I happily accepted. I can honestly say the role of Lead Chaplain at the University of Sussex – notwithstanding the normal highs and lows of any job – has been the best job I ever had. And I've had some great gigs in the past.
One of the aspects of the post I have enjoyed was the task of promoting a vision of chaplaincy that is larger than its usual limited associations with "doing religion". Religion is something that naturally "gets done" by members of the chaplaincy team but our contribution to the wellbeing of students and staff has, I trust, exceeded our regular provision of religious services. Our base, the Meeting House, has been a kind of Rivendell (if you will forgive the nerdish reference) for members of the campus community from all sorts of backgrounds and beliefs.
During times of industrial action, we have provided a neutral space, hosting conversations between management and supports of strike action and offering all sides the hospitality of a quiet space and, perhaps, a cup of coffee. Meditation, therapy dogs, one-to-one relaxation sessions, celebrations for One World Week, cultural events, poetry readings, seminars and meetings regarding social, political and philosophical issues, etc… have been hosted here and serviced by members of the chaplaincy team.
Lectures have been given for the Medical School on wellbeing, especially as nurtured by such practices as meditation and, on occasion, we have been invited to make interventions by way of supporting professional service and academic colleagues when there has been conflict in the workplace.
Most of the students and staff who have made their way to my door have not come for religious reasons but for a chat about aspects of their lives or studies that felt uncomfortable – issues around mental health, sexuality, family issues – or simply to have a conversation. At times there has been academic engagement as we critically talked about literary texts they were reading or conversed about wider political and philosophical topics. Colleagues have helped international students with theses or with other practical matters. And the list goes on.
For those unfamiliar with the vision statement for chaplaincy, it runs:
"The Chaplaincy will be accessible to students and staff from all religious and non-religious backgrounds.
While continuing to serve faith communities on campus the chaplains will also embody the inclusive and progressive ethos of the university in its engagement with the campus community.
The chaplaincy will also support the nurture of skills and processes that enable faith and secular constituencies to communicate effectively, in ways that honour the integrity and humanity of 'the other' and that contribute to the wellbeing of the whole university and facilitates its educational aims."
We are here for the whole campus community across the spectrum of beliefs. We are here for you!
Alas, I will be until my retirement from the post on 30 September. The good news is that this will not be so much a matter of "goodbye" but rather, "see you later" as I continue to work at Sussex as a researcher, based in the school of Media, Arts and Humanities. While I look forward to the space to focus more fully on my research project, I am also very happy to continue to be on campus as a student.
My successor will hopefully be appointed before too long and I am sure that they – and the multifaith team of chaplains here at the Meeting House – will continue to offer a warm and welcoming presence to every student and member of staff at the University, whatever their background or belief.
So, see you later!
Chris McDermott
University Chaplain & Lead Faith Advisor