Investing in a Better Sussex: October highlights
Posted on behalf of: Internal Communications
Last updated: Thursday, 6 October 2022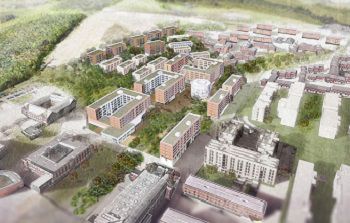 With campus bustling with activity as the new term starts, work is ramping up on a number of the projects which are part of creating a better Sussex. From the visible works to get the West Slope development site ready for building our newest addition to campus, to the less visible progress on the student information system, there is a lot going on. Read more in our highlights for this month:
Student Information System (SIS): The contract for the implementation of the University's new SIS has now been finalised and we will be sharing further information about our supplier shortly. This important milestone enables us to move ahead into implementation phase, and colleagues will start to hear a lot more about the project, and about how they can get involved, over the coming months.
West Slope: There is lots of work underway across campus as we prepare our utilities for the West Slope development. Work is nearing completion on a new Laundrette by Swanborough, a new temporary road has been built to accommodate the closure of East Slope Road and work to install new utilities near Lewes Court, Norwich House and along the Arts Path are progressing well. You can find out more about the West Slope from a visual display near the Library café. Check for the latest updates on our campus development webpages and join our Viva Engage 'Better Campus' community via your Teams app.
Telephony Modernisation (Unified Communications) project: Senior staff from all Schools and Divisions have contributed to the development of the project, and a network of 'change champions' from across the university is working with the project team to ensure engagement and communication takes place at a local level. Over the next few months, we'll be sharing more information through your local change champions and we'll be asking for your views on how best to make the most of this new way of working. Find out more about telephony modernisation.
My Sussex (Online Student Support System): Work on the system continues with the My Sussex developer, Tribal. We are in the process of preparing a programme of training for staff users of the system, and will be sharing more information in the next month or so.
Identity and Access Management System (Okta): After successfully moving LearnUpon onto the Okta Single Sign on platform in early September, we will soon be able to confirm which regularly-used applications for staff will be added next. We are also looking to extend this to students to improve their experience of access to IT systems. In addition, work is continuing, through Okta, to improve access to digital services for new starters and to improve the processes for removing services when they leave.
To find out more about how we're investing in a better Sussex, you can watch our introductory webinar, and our campus development webinar.
If you have any questions about any of the projects, initiatives and changes across the University, please speak with the Sussex Projects team, who are responsible for overseeing the delivery of all our programmes.