David Ruebain: Inclusive Sussex update
Posted on behalf of: Internal Communications
Last updated: Thursday, 10 November 2022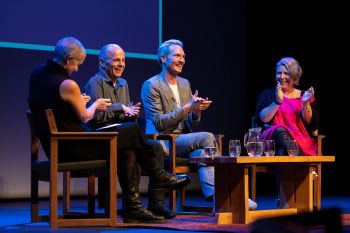 David Ruebain, Pro-Vice-Chancellor (Culture, Equality & Inclusion) emailed all staff today, Tuesday 8 November. You can read the message below:

Dear colleague,
In this month's update I want to highlight:
Inclusive Sussex: In Conversation with Dan Gillespie Sells
Transgender Awareness Week and Transgender Day of Remembrance
The joint union negotiations
Race Equality Charter focus groups
A very special film screening for Disability History Month
A number of other important developments, including a diversity prize winner in our community


Inclusive Sussex: In Conversation with Dan Gillespie Sells
Our first 'Inclusive Sussex: In Conversation with...' event was a great success. A mixture of staff, students and members of the local community braved inclement weather to join us at the ACCA for a wide-ranging yet intimate conversation. During the discussion, we reflected on how sometimes the magic is working out the space between perspectives – the tussle of two narratives, resulting in something new. I think that 'something new' is where inclusion lies. You can see a news article with a full recording of the event.
Transgender Awareness Week
Next week, commencing 13 November, is Transgender Awareness Week, followed by the Transgender Day of Remembrance, which shows support for victims of transphobic violence, on 20 November. We will be flying the trans flag from Sussex House from 14 November. Keep an eye out for events happening across the Schools and divisions to mark this important week.
During the week, on 14 November, Jane M Ussher will be giving talk, 'Out with Cancer: LGBTQI+ Cancer Survivorship and Care,' sharing insight into health disparities and drawing on research featuring the perspectives of LGBTQI+ patients. This is a fantastic opportunity to hear from a leading expert. Book your place.
Joint union negotiations
As you will know, we have recently concluded 16 weeks of negotiations between UCU and the University. I led the Equalities workstream and along with other colleagues, I am delighted that we made progress in a few key areas including establishing a £50,000 carers' support budget fund and enhancement of maternity pay. We also took forward work on updating the guidelines and templates for conducting Equalities Impact Assessments, EDI work within workload allocations, addressing pay gaps, EDI training and student services. You can read more on the Staff Hub about agreement reached on key issues.

Race Equality Charter focus groups
Staff and students who identify as being part of a racially minoritised group are invited to join upcoming focus groups, as part of our Race Equality Charter application and ongoing work to build an Inclusive Sussex. Hosted by an external facilitator, the sessions will offer an opportunity to give feedback about your experiences at Sussex in a safe space. We want to hear your thoughts so please do sign up for the staff focus group taking place on Friday 11 November.
Disability History Month
Disability History Month runs from 22 November to 22 December annually, and to celebrate it this year our Disability Network invites you to a special screening of The Silent Child at the ACCA. This powerful film tells the story of Libby, a profoundly deaf six-year-old who lives a silent life until a social worker starts to communicate with her using sign language. The showing will be followed by a Q&A with Rachel Fielding, who plays Libby's mother Sue. I hope you can find the time to come along.
Other news:
My inaugural lecture, 'Can the law deliver inclusion?' is tonight (8 November) at the ACCA. I hope you can make it.
Congratulations to Dr Mahmoud Bukar Maina, a postdoctoral fellow in our School of Life Sciences, who has been awarded the ALBA-FKNE Diversity Prize 2022 for his longstanding efforts to expand science capacity in Africa and promote diversity in basic neuroscience research. Find out more about Dr Maina's work and the prize.
Meanwhile, I was delighted to receive an Honorary Doctorate from the University of Law for EDI work and advancing human rights of disabled people.
November is Islamophobia Awareness Month, which aims to break down barriers and raise awareness of Islamophobia in society. For more information on Islamophobia Awareness Month, including what to do if you have experienced or witnessed bullying or harassment on the grounds of religion, see the Staff Hub.
The allyship and listening programme now has dates agreed this month for our pilot sessions, with colleagues from the University Leadership Team, Library Services and Media, Arts and Humanities taking part. We will then evaluate the pilots with a view to developing the programme further.
Information on gender neutral and same sex bathroom availability is shown on the campus webpages, now with an updated campus map.
With good wishes,
David Ruebain
Pro-Vice-Chancellor (Culture, Equality & Inclusion)