David Ruebain: Inclusive Sussex update
Posted on behalf of: Internal Communications
Last updated: Wednesday, 7 December 2022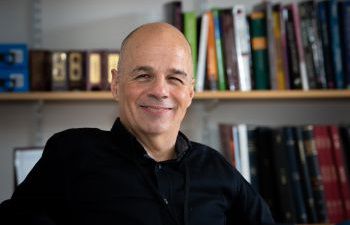 On 6 December 2022, David Ruebain, Pro-Vice-Chancellor (Culture, Equality and Inclusion) emailed all staff. You can read the message below:


Dear colleague,
In this month's update I want to highlight:
International Day of Persons with Disabilities, 3 December, and World AIDS Day on 1 December
Ethical procurement
Recent event replays
Maternity and Adoption Policies and carer support update
Religion and Belief Forum's first meeting
Introduction
The last week has seen two annual events: World AIDS Day on 1 December and International Day of Persons with Disabilities on 3 December. The proximity of these two events has brought to mind an important historical moment in liberation history.
In the 1990s, the "disability movement" had grown exponentially and the UK "Rights Now" campaign for anti-discrimination legislation (of which I was Vice Chair) was able to mobilise tens of thousands of people in support of civil rights. Meanwhile, in 1993, along with three others, John Campbell, a young gay man, set up a new national organisation – the UK Coalition of People Living with HIV and Aids, an activist organisation of predominantly gay men. Hitherto, both communities – disabled people and gay men living with HIV and AIDS – had kept their distance; in part because of homophobia and prejudice towards those with HIV/AIDS amongst disabled people and also disablism amongst young gay men. But John was determined to bridge this. He wanted people with HIV to be part of the mainstream disability rights movement and brought his organisation into the Rights Now campaign. Eventually, he was very proud of becoming chair, in the late 1990s, of the British Council of Disabled People, an organisation then largely run by wheelchair users.
John died in 2007 and I will always remember him as central in bringing people together through alliance building work, something that is not easy but which remains vital to tackling oppression today.
As mentioned in recent Inclusive Sussex updates, the University Leadership Team recently experienced a pilot session for a potential Allyship and Listening programme. It was a really useful learning experience and it became apparent that there's further work to do for the programme to deliver what we require at Sussex. I will of course keep you updated.
This week I understand that a number of students intend to protest about the inaccessibility of the Library and other campus spaces. Currently, students with mobility impairments have to take a long and circuitous route to an accessible entrance. We know that this is a significant problem which needs addressing and I and the University Executive Group are committed to doing so.
We want to have a single accessible entrance for all, and while this will be addressed as part of capital investment including for the Library refurbishment, this will not be completed for some time. In the shorter term we are taking steps to facilitate access around campus. Once students have registered with Student Support, the Library team invites them for a 1-1 tour of the library and relevant services, including the accessible entrance. For students and staff with accessibility needs, there is also an accessibility map of campus.
Ethical procurement
You will have hopefully seen, and taken part in, a catering survey, which forms part of a campus-wide consultation about food and catering on campus. I have been working with Assistant Director of Culture, Equality and Inclusion Isobel Pearce and Head of Procurement Ian McKee to ensure we take this opportunity to build in our values (including Equality, Diversity and Inclusion and environmental sustainability) into the procurement process to enhance and strengthen our ethical provision of campus food. The consultation continues this week with a series of webinars and engagement activities which offer different ways to be part of the conversation. It is important that we are inclusive in our approach to engagement and take into account the many varied views about food and drink choices and our catering provision. Please do take the catering survey by Friday 9 December or book your place at the open forum about catering for all staff on Thursday between 11am and 12.15pm.
Event replays now available
As part of Black History Month in October, Mike Okorie, Professor in Clinical Pharmacology and Therapeutics at Brighton and Sussex Medical School, discussed his journey as a Black academic in conversation with Dr Max Cooper, Senior Lecturer in Primary Care and Public Health at BSMS. This online event was recorded, with students, staff and alumni from the medical school in attendance. View the replay.
Last month, I gave an inaugural professorial lecture at the ACCA, exploring whether the law can deliver inclusion. The lecture was followed by a Q & A with staff, students and visitors to Sussex, facilitated by Donald McGillivray, Professor of Environmental Law and Head of Sussex Law School hosting. If you are interested, please do view the replay.
Maternity and Adoption Policies and carer support update
As of 1 December 2022, all staff are eligible for paid Maternity or Adoption Leave, regardless of their length of service. Colleagues will receive full pay for the first 26 weeks of their Maternity or Adoption Leave. This also applies to all staff who are currently within the first 26 weeks of, or are about to begin, Maternity or Adoption Leave. Read the full policies.
And, from the start of this month, all colleagues with caring responsibilities will be able to claim for additional costs incurred for caring-related services when attending work events, such as conferences, training or career development events as part of their role.
The fund will also provide for the cost of learning and development for existing members of staff who are returning to the workplace following caring related absence. Read more about the Carer Fund.
Religion and Belief Forum
Last month we held our first Religion and Belief Forum meeting. It was a great start but we are keen that it includes perspectives from a wide range of different faiths, religions and philosophical beliefs. We would welcome participation from others, including those from a Hindu or Muslim background, or those with humanist or atheist beliefs. So if you might be interested, please express your interest by contacting the EDI Unit (edi.unit@sussex.ac.uk)
We are also finalising a small steering group to oversee the Black at Sussex programme and would welcome participation from black members of the community in this group. Please contact the EDI unit if you would like to find out more.
Finally, the upcoming holiday season can be a time of joy and relaxation but it can also be lonely and worrying for some, including those from parts of the world in which there is conflict and trouble. Should you wish, please do make use of available support services. Our Employee Assistance Programme (EAP) partners are Health Assured and you can contact the 24 hour / 365 days-a-year helpline on 0800 316 9337. Our Wellbeing Hub also has guidance for staff and managers on looking after yourself.
However you mark or celebrate the festive season, warm wishes for the coming weeks and subsequent time away from work.
With good wishes,
David Ruebain
Pro-Vice-Chancellor (Culture, Equality and Inclusion)