David Ruebain: Inclusive Sussex update
Posted on behalf of: Internal Communications
Last updated: Wednesday, 8 March 2023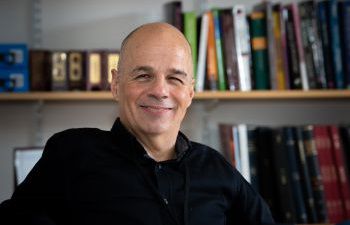 On 8 March 2023, the Pro-Vice-Chancellor (Culture, Equality and Inclusion), David Ruebain, emailed all staff. You can read the message below:
Dear Colleague,
There is a lot that has happened and is happening at Sussex. In this month's update I want to highlight some important initiatives and developments, particularly:
International Women's Day – 8 March
Installation at the Business School – The World Reimagined
Black at Sussex: Journeys in Music event
Ethical procurement process
Welcome to our new Lead Chaplain
EDI-themed lunch
Holocaust Memorial Day
Inclusive Sussex: In Conversation with Tom Shakespeare
What's coming up this month
International Women's Day – 8 March
Today, 8 March, is International Women's Day (IWD), which celebrates the social, economic, cultural and political achievements of women. This year's IWD theme is #EmbraceEquity which aims to get the world talking about why 'equal opportunities are no longer enough'. To embrace equity means to understand the journey required to achieve women's equality.
Here at Sussex, Dr Elizabeth Rendon-Morales, Director of Equality, Diversity and Inclusion at the School of Engineering and informatics and Dr Louise Newnham, Athena Swan lead at the School of Life Sciences have invited female members of staff at the University to be part of a series of photography portraits to help raise awareness and showcase female role models working at Sussex. The images will be shared online on this interactive board and displayed on campus.
Find out about other IWD events taking place across the University.
Installation at the Business School – The World Reimagined
I was delighted to visit a new art installation at the Business School. Sussex is hosting a unique globe as part of the travelling UK-wide sculpture trail 'The World Reimagined'. The installation, which is now on display outside the Jubilee Lecture Theatre, has been designed by local artist Serena Sussex as a conversation starter on themes of racial justice. Staff, students and campus visitors are invited to view the artwork which has already been exhibited in Trafalgar Square and Brighton Marina.
The World Reimagined aims to transform understanding of the Transatlantic Slave Trade and its impact on all of us, exploring nine different themes which seek to reimagine our past, present and future. I am really excited by the sculpture's title: 'The Inner Voice Through Music'.
The overall theme of the Transatlantic Slave Trade and its impact on all of us is central to understanding the nature of ongoing structural racism. The University is committed to taking action towards race equality as set out in our Antiracist Sussex pledge.
Black at Sussex: Journeys in Music event
By coincidence, only a couple of weeks ago we were privileged to enjoy 'Journeys in Music', part of the University's Black at Sussex programme, at the Mandela Hall on 17 February. Lynda Rosenior-Patten and June Reid from Nzinga Soundz, along with Sussex alumnus Topher Campbell, explored rich histories and cultural connections through music, in conversation with Karena H Maynard.
Valerie Kporye, Literature and Philosophy undergraduate at Sussex, captured the event beautifully in her blog. You can also hear the Spotify playlist from the event.
Ethical procurement process
This academic year we are undertaking the re-procurement of both our catering provision and our facilities management on campus. This activity is underpinned by our sustainable procurement framework which embeds our values into contracts for goods and services, and aligns with the UN sustainable development goals (SDGs).
I am delighted that recent benchmarking activity suggests that the University is significantly more advanced than much of the sector in this area. In particular, our ethical questions are applied both as a minimum requirement and then as the first stage of our selection process, with only the three highest scoring bids in this area taken forward for evaluation of their technical and commercial proposals. Our ambition is to develop and continue to be a leader in ethical procurement. I hope to provide further detail of the process in the coming period.
Welcome to our new Lead Chaplain
I would very much like to welcome our new chaplain, James Croft. James is the University's first Humanist chaplain and brings years of experience providing pastoral care and counselling to a religiously diverse community, and a passion for reimagining religion and spirituality to fit the way we live today. We will of course also continue to have a multi-faith team of chaplains representing different religious and spiritual communities, offering support to every member of the University. If you've not yet had a chance to meet James, I would encourage you to visit the wonderful Meeting House and say hello.
Meanwhile, the Religion and Belief Forum that we recently established continues to grow into its role – to support the University in thinking about and advancing equality and inclusion for a wide range of different faiths, religions and philosophical beliefs. If you are interested in joining, particularly if you are a Sikh or Hindu, please contact the EDI Unit: edi.unit@sussex.ac.uk.
EDI-themed lunch
Last term, staff in key roles relating to Equality, Diversity and Inclusion (EDI) across the University were invited to an EDI-themed lunch with the Vice-Chancellor, Sasha Roseneil. The purpose of the event was to discuss and identify next steps in advancing EDI at the University, and to provide an opportunity for Sasha to hear a range of views on this issue.
I chaired the event, which also provided an informal opportunity for more than 30 staff across the University with an interest in and involvement in EDI work to meet and network. We are finalising a report on the event and will soon be sharing a summary and actions.
Holocaust Memorial Day
The University hosted a programme of events for Holocaust Memorial Week and, on 1 February, Holocaust Survivor Manfred Goldberg shared his story of how he survived several concentration and labour camps. Manfred was awarded a British Empire Medal (BEM) for services to Holocaust education and awareness in 2019.
For those of you who were unable to attend the event, you can watch the recording of Manfred's powerful testimony.
Inclusive Sussex: In Conversation with Tom Shakespeare
Professor of Disability Research and leading disability activist Tom Shakespeare will be our next guest speaker at our summer 'Inclusive Sussex: In Conversation with' event in May. He will be exploring the current picture of disability inclusion in the context of the UN Convention on the Rights of Persons with Disabilities and asking – what next? Tom is an engaging speaker and a regular contributor in the media, including BBC Radio 4's A Point of View.
Open to all staff, students and the wider community, the event will take place on 17 May at 5pm, and will be held on campus. Book your place now.
With good wishes,
David Ruebain
Pro-Vice-Chancellor (Culture, Equality and Inclusion)


---
Coming up this month:
One World Week – 13-17 March
Neurodiversity Celebration Week – 13-19 March
International Transgender Day of Visibility – 31 March (the flag will be flown at Sussex House from 31 March to 3 April)
Ramadan – 22 March-21 April
World Autism Acceptance Week – 27 March–2 April
Visit our EDI webpages for further information and news updates.