David Ruebain: Inclusive Sussex update
Posted on behalf of: Internal Communications
Last updated: Friday, 21 April 2023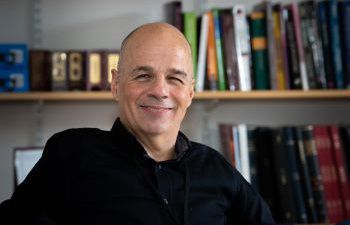 Today, 21 April 2023, Pro-Vice-Chancellor (Culture, Equality and Inclusion) David Ruebain emailed all staff. You can read the message below:
Dear Colleague,
In this month's update I want to highlight:
University pay gap data published
Developing our Inclusive Listening Programme
Equality Impact Assessments (Equality Analysis)
Religion and Belief Forum
Update on Halpin review of EDI governance
Brighton Festival events with Rafael Behr and Munroe Bergdorf
Inclusive Sussex: In Conversation with Professor Tom Shakespeare on 17 May
Crip Camp documentary screening on 22 May
Raminder Kaur shortlisted for Asian Women of Achievement Awards
EDI lunch gathers views from staff community
A recent interview with Good Course
University pay gap data published
In March, annual gender pay gap data, which large organisations are required to publish, as well as information on ethnicity and disability pay gaps at Sussex which we publish voluntarily, was made available on our Equality, Diversity and Inclusion pages. Whilst the latest data shows that the University's mean (average) gender pay gap has reduced by 1% to 16.9%, much work remains to be done to achieve our strategic targets. The Athena Swan Gender Equality Action Plan has a programme of work to address this and I remain determined that we will make positive progress in this area.
Our detailed Gender Equality Action Plan was refreshed as part of the University's institutional Athena Swan submission in November 2020. Further actions to address pay gaps also feature in our recently-launched People Strategy. These include reviewing our recruitment processes, driving forward actions to create an equitable pay framework and addressing promotion and career progression processes to remove any barriers. Meanwhile, there remain race and disability disparities and our draft Race Equality Charter Action Plan, alongside work that will be undertaken by the Disability Equality and Inclusion Steering Group, seeks to address this.
Developing our Inclusive Listening Programme
Colleagues will recall that I have previously discussed introducing an Allyship and Listening Programme but, following an initial pilot, we determined that further work was required to meet the needs of Sussex's community. Incidentally, one issue that we have been considering is the title – the term 'allyship' is important to our objectives but it has several meanings and in some respects proved unhelpful.

I am pleased to report that this term we will be offering a pilot Inclusive Listening Programme with the opportunity for participants to be trained as 'Inclusive Listening Champions'. The pilot will be run with School of Media, Arts and Humanities and Library Services staff and will begin with 'taster' workshops in May and June, introducing Open Listening approaches based in mediation and conflict theory. These practical sessions will help participants learn how to work effectively with conflicts and the tensions they create, to build stronger relationships based on respecting and valuing our differences. After evaluating the taster workshops we hope to recruit up to 25 Listening Champions to participate in an ongoing programme and subsequently roll out the programme to other Schools and divisions.
Equality Impact Assessments (Equality Analysis)
Following the conclusion of 16 weeks of negotiation between the University of Sussex and the University and College Union in autumn 2022, an approach was agreed to set out the activities for implementing a revised and effective Equality Analysis (EA) process. The guidance and template were formally agreed and published in November 2022, and this was followed by a review to consider the use and quality of EAs and identify opportunities to improve the existing documentation and resources. Recommendations for improvements will be progressed throughout the spring, with future work to further embed effective use of EAs starting in the summer. The current guidance, template and link to e-learning are available on our Equalities webpage.
Religion and Belief Forum
The Religion and Belief Forum now meets each term. Its purpose is to strengthen the University's commitment of creating a non-discriminatory, inclusive environment where religious and non-religious faiths and beliefs are respected, and where the values of open and respectful debate are upheld.
The forum has agreed terms of reference describing its role as a critical partner to the University where colleagues meet to discuss policies, procedures and practices on this strand of EDI work. The intention is to make links with other programmes of work, to share and build knowledge, understanding and awareness and identify shared values that support positive engagement. The group will also consider support and provision and consider how to promote inter-faith dialogue.
Update on Halpin review of EDI governance
As well as my role and that of the EDI Unit, the work and practice of driving equality, diversity and inclusion is diffuse and spread across the University, as is the case with many large and complex organisations. Indeed, it is everyone's business! Many colleagues are doing important work but we are not always joined up and there are some instances of duplication and also of good practice which are not widely known. We have commissioned Halpin Consultancy to undertake a review of the organisational design of EDI work at Sussex and its accompanying governance arrangements. They will provide us with recommendations drawing on best practice across the sector.
Brighton Festival events with Rafael Behr and Munroe Bergdorf
Sussex is the official Higher Education Partner for Brighton Festival 2023 and there are many exciting events, please do take a look. I am introducing two events at the Attenborough Centre in May. A Survivor's Guide to Politics with Rafael Behr (Wednesday 10 May) will look at the toxic atmosphere of modern politics. Munroe Bergdorf: Transitional (Saturday 27 May) will be an opportunity for us to welcome the internationally renowned activist, model, writer and broadcaster to the stage to talk about her book, 'Transitional'.
Inclusive Sussex: In Conversation with Professor Tom Shakespeare on 17 May
As previously announced, our next Inclusive Sussex: In Conversation event is on 17 May from 5.30pm - 7pm. We'll be joined by Tom Shakespeare, Professor of Disability Research at London School of Hygiene and Tropical Medicine. In a panel discussion with me, Dr Hadir Eshafay and Dr Hannah Mason-Bish, we will discuss next steps in disability, liberation and equality in light of the transformative experience of the United Nations Convention on the Rights of Persons with Disabilities. I do hope you can join us for what promises to be a fascinating evening.
Crip Camp documentary screening on 22 May
Relatedly, I was very saddened to hear of the death of Judy Heumann. Judy was a pioneer of disability liberation work in the US and then globally and I was privileged to meet her in New York some years ago. Her obituary appeared recently in The Guardian and I would also recommend her TEDx talk: 'Our fight for disability rights and why we're not done yet'.

As a young person, Judy spent summers at Camp Jened in New York State, a camp for teens with disabilities. Judy's and others' experience there, and its impact on their lives and the disability movement, is brought vividly to life in the 2020 film Crip Camp. It's a fascinating and inspiring watch, and I'm delighted that we will be holding a special screening of it for staff and students on campus on 22 May from 6.30pm. You can book your place now, please do come!
Raminder Kaur shortlisted for Asian Women of Achievement Awards
We heard the news last month that Raminder Kaur, Professor of Anthropology and Cultural Studies in the School of Global Studies, has been shortlisted for the prestigious Asian Women of Achievement Awards 2023, in the Arts and Culture category, and we will find out in June if she has won. Raminder has conducted extensive fieldwork in India, Pakistan and among diasporas in Britain, focusing on topics such as migration, race, ethnicity, gender, arts and aesthetics, heritage, human rights and public culture. She is a well-deserved nominee who has had a huge influence through her work – many congratulations!
EDI lunch gathers views from staff community
In December, Vice-Chancellor Sasha Roseneil hosted a lunch for many of our staff involved and interested in our EDI work and ambitions. The lunch began by considering five questions:
What is going well in relation to EDI at Sussex?
Are there any EDI difficulties or problems which are currently unaddressed or unresolved and what should we do more of or differently to advance EDI in Sussex?
How do we ensure and enhance effective individual responsibility for advancing EDI alongside support from EDI colleagues?
What else could we do to help meet our vision for 'Connected' Sussex (Note: a new strategic goal that was added to Inclusive Sussex when it was refreshed in 2022)?
Balancing freedom of speech and EDI work can present both challenges and opportunities, how do we address these?
This informed a rich and wide-ranging conversation and the EDI Team have now produced a report which will shortly be sent to all attendees. You can also contact the EDI team at edi.unit@sussex.ac.uk if you would like to view the report.
And finally...
I was featured recently in 'The Interview' on Good Course, where I had the chance to talk about equality, diversity and inclusion, community, allyship and tolerance, as well as our Black at Sussex programme.
With good wishes,
David Ruebain
Pro-Vice-Chancellor (Culture, Equality and Inclusion)
---
Coming up
22 April: Stephen Lawrence Day
1-7 May: Deaf Awareness Week
17 May: International Day Against Homophobia, Transphobia and Biphobia (IDAHOBIT) - the flag will be flown at Sussex House on 17 May
Visit our EDI webpages for further information and news updates.