Discounted tickets to Brighton and Hove Albion women's team matches
Posted on behalf of: Internal Communications
Last updated: Wednesday, 17 May 2023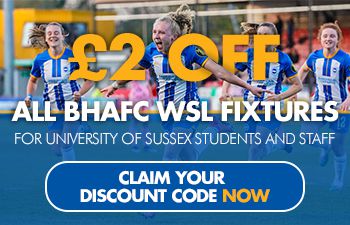 Staff and students can now buy discounted tickets to watch Brighton and Hove Albion's Women's team.
To obtain your discount code for tickets please email sussexsport@sussex.ac.uk.
Women's home matches are played at the Broadfield Stadium in Crawley and there are still some home matches left this season. You can take advantage of the free Seagulls Travel Coach service to get there. It offers several pick-up points across Brighton & Hove, including the Amex, and nearby towns. It is free but you must book your seat in advance.
The discount will continue to apply next season.