A happy and successful visit by our Chinese partners from Southwest University
Posted on behalf of: Internal Communications
Last updated: Wednesday, 31 May 2023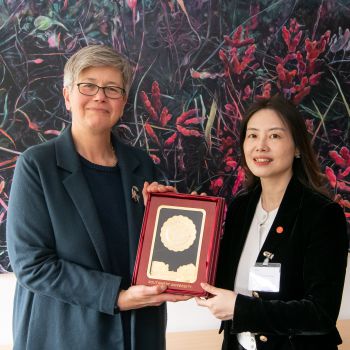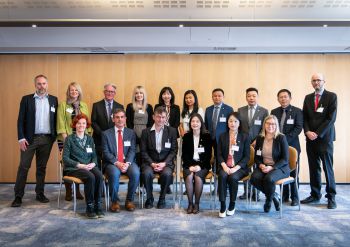 On Friday 19 May, we were delighted to receive the visit of a delegation from Southwest University (SWU) for meetings with the Vice-Chancellor and colleagues from a wide range of Sussex Schools. SWU are a long-standing and prestigious partner for Sussex, asa major research-intensive university based in Chongqing that is currently ranked in the toppercentileof Universities in China. Following a pause due to the pandemic, both Universities were delighted to re-establish a series of reciprocal visits dating back to 2018 as part of SWU colleagues' first visit outside of China since the lifting of travel restrictions.

A series of sessions throughout the day provided opportunities to share the respective institution's post-pandemic priorities, strengths and agendas for internationalisation. Marcus Williams, Director of Student Recruitment, Admissions and International Development, opened the day with an overview of Sussex's current strategic trajectory, followed by Professor Seb Oliver, Deputy Pro-Vice Chancellor for Research providing further details of Sussex's impactful research and plans to develop Centres of Excellence in our pillars of research strength. Dr Hu Lin, Deputy Director of International Cooperation and Exchange for SWU responded by emphasising the importance of international partnerships for her university, as a leading institution for global activity within the Southwest region of China. SWU is playing a significant role in leading the development of its surrounding geographical region as part of the Belt and Road Initiative, and therefore there will be many possible strategic synergies to explore together.
Extensive collaboration is already ongoing between the University of Sussex Business School and the SWU School of Economics and Management, with this visit providing an important occasion for further conversations to strengthen relationships between colleagues. Members of the SWU delegation were also pleased to visit the Sussex School of Life Sciences to discuss the potential for further academic co-operation, with a range of prospects for broad and deep collaboration available to follow up on after this visit.
Academic colleagues from across the University of Sussex also came together for a networking lunch with the SWU delegation, such as Professor Jamie Ward from the School of Psychology,whose series of collaborative publications with Professor Jiang Qiu from SWU is already contributing to the achievement of Sussex's strategic goals to increase international co-authorship. A meeting for the SWU delegation with the Vice-Chancellor Professor Sasha Roseneil confirmed that the visit had been a resounding success in re-invigorating our partnership and strengthening relationships at all levels. Following a brief tour of central Brighton before a farewell dinner in the evening, members of the SWU delegation said they could now understand why Brighton is one of the happiest places to live in the UK!