Bike Week 2023: Join EcoGo for the chance to win an electric bike worth £1300!
By: Martha Knott
Last updated: Monday, 5 June 2023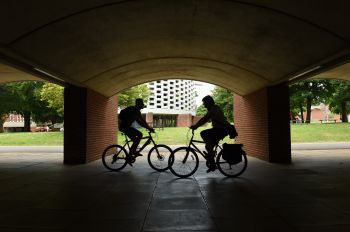 Do you cycle to work, or would you like to start?
EcoGo users can join in Bike Week 2023, 05-11 June, for the chance win a grand prize giveaway of an electric, folding Batribike worth £1300! You can also earn double BetterPoint when you cycle this week.
Cycling, as opposed to driving and even public transport, reduces pollution, carbon emissions, and congestion. And on top of the environmental benefits, evidence shows that a more active lifestyle can make you happier, healthier, and more productive at work.
EcoGo is the University's active and sustainable travel rewards programme, where you earn 'BetterPoints' every time you walk, cycle, or take public transport to campus instead of using a car. You can redeem your points for discounts and offers on campus and in Brighton, including free hot drink vouchers all year-round - sign up now!
Don't have EcoGo yet? Simply download @BetterPoints, join EcoGo, sign in and complete the June Survey for the chace to win the grand prize giveaway.