Professor Kelly Coate to leave Sussex for new role at Richmond American University in London
Posted on behalf of: Internal Communications
Last updated: Friday, 2 June 2023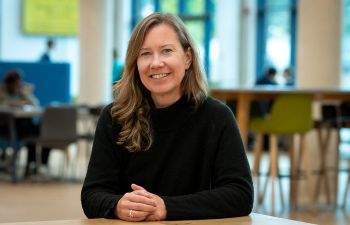 Professor Kelly Coate, our Pro-Vice-Chancellor (Education & Students) is leaving Sussex to take up a new role as Deputy Vice-Chancellor at Richmond American University in London.
Professor Coate joined the University in 2018 to become Pro-Vice-Chancellor (Education & Students), from King's College London, where she was Vice Dean (Education) in the Faculty of Social Science and Public Policy. During her time at Sussex, Professor Coate has led the Learn to Transform Strategy of Sussex 2025, which has included establishing the Spirit of Sussex Awards, the Student Connector Programme, the Education and Scholarship academic pathway, and the annual Education Awards.
Professor Sasha Roseneil, Vice-Chancellor, said: "I have only worked with Kelly for a short period of time but it has been clear to me that she has been a dedicated member of University Executive Group (UEG), whose knowledge about, and passionate commitment to, university education and student support have benefitted Sussex greatly. Kelly has been the Pro-Vice-Chancellor (Education & Students) during the most difficult times universities have faced in our lifetimes, quite possibly ever.
"The pandemic presented unprecedented challenges and I am sure that, at different times, each of us had moments of feeling quite overwhelmed by the scale of the change we were going through and the work we had to do. That Sussex's approach to the pandemic and to supporting students has been widely recognised as sector-leading is in no small part to due to Kelly's work and leadership."
Professor Coate said: "I have had so many unforgettable moments during my time at Sussex, including seeing the herd of cows on campus during lockdown, and sitting on stage for 30 graduation ceremonies last July. On a day-to-day basis, though, I genuinely feel that the students and staff have made doing this job a privilege, and I am proud to have been a part of Sussex for the past five years."
Professor Coate takes up her new role at Richmond at the beginning of September 2023.