Malcolm Reed to retire as Dean of Brighton and Sussex Medical School
Posted on behalf of: Internal Communications
Last updated: Friday, 15 September 2023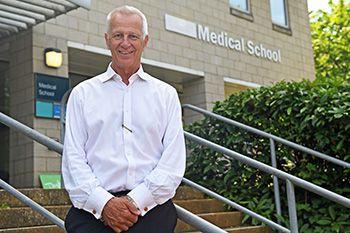 Professor Malcolm Reed has announced that he will retire from his post as Dean of Brighton and Sussex Medical School (BSMS) at the end of July 2024, coinciding with the end of the BSMS twentieth anniversary celebrations. BSMS is a partnership between the Universities of Brighton and Sussex, and Professor Reed's announcement is to allow time for the universities to identify a successor.
Professor Reed was appointed as Dean of BSMS in 2014 after a successful career as an academic surgeon specialising in breast cancer research at the University of Sheffield. During his time at the helm of BSMS, he has continued his academic research, with a focus on the diagnosis and treatment of older patients with breast cancer and pre-existing frailty. He has over 350 publications during his career to date.
Professor Reed led the successful application for BSMS to increase undergraduate medical student numbers by over 40%, to a current annual intake of over 200 students. Postgraduate taught and research student numbers have also substantially increased and the school has maintained top quartile results in the National Student Survey. There has also been major growth in research activity and quality, as demonstrated by the doubling of government quality-related (QR) funding to over £2M per year, following the recent Research Excellence Framework (REF) exercise. Professor Reed was elected Chair of Medical Schools Council in 2019. This prestigious role included coordinating the national response to the Covid Pandemic and leading the development of the MSC Applied Knowledge Test of the Medical Licensing Assessment to be introduced by the GMC in the next academic year.
Professor Reed said: "I want to thank all my colleagues at BSMS, across the two universities and our NHS partners who have been so supportive in helping the medical school grow and flourish since I commenced work here in December 2014. I have thoroughly enjoyed the role as Dean and it has been wonderful to see many colleagues develop and progress in their careers both here and elsewhere as well as to hear about the increasing number of our graduates progressing to senior and important roles in the NHS and beyond."
Vice-Chancellor of the University of Brighton, Professor Debra Humphris CBE, said: "Malcolm has made a significant contribution to the success of BSMS, so it is fitting that we should be remembering his many achievements at such an important time for the medical school. I was fortunate to work closely with Malcolm as we coordinated the universities' response to the Covid pandemic, and have seen first-hand both his inspirational leadership and his care for BSMS's staff and students. I wish him well in his future endeavours."
Vice-Chancellor of the University of Sussex, Professor Sasha Roseneil, said: "Under Malcolm's leadership BSMS has gone from strength to strength, growing and developing its distinctive education and research environment. It has been a pleasure to work with Malcolm in the run-up to BSMS's 20th anniversary, and I know that he will be greatly missed by colleagues and students alike."