Turning feedback into progress: Top seven Business School enhancements inspired by our students
By: Serena Mitchell
Last updated: Monday, 20 November 2023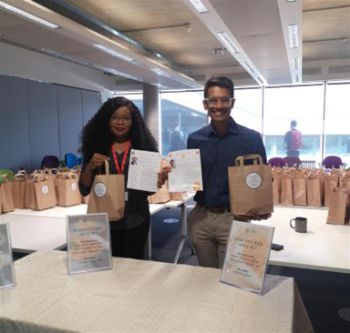 Taking steps to enhance the student experience, the University of Sussex Business School is pleased to announce a series of actions undertaken in direct response to students' invaluable feedback.
Through our "You Said We Did" initiative, your survey feedback and your voices have been heard, leading to positive changes that aim to make your academic journey even more enriching. The seven steps we outline below include anonymous student quotes from National Student Survey responses we've received in 2023.
1. Clarity in assessments and marking
Your desire for more transparency in assessments and marking has resonated with us. We have collaborated with students to create informative marking methods, refining our moderation processes, and adapting submission procedures to better accommodate unforeseen challenges. These changes ensure a clearer understanding of expectations, fostering a more supportive learning environment.
"Teachers' feedback was always thorough, and structured in a way that benefitted my knowledge of the fundamentals and the content of the latter stage courses."
2. Additional study spaces
Acknowledging the need for more study spaces, we've revitalized the common areas of the Jubilee building, optimizing the space for increased accessibility. Now, more students can enjoy a conducive environment for focused studying.
"The campus is well-kept, clean, tidy, and safe. Love that my subjects are all in different buildings so I can experience them all."
3. Mental health support
Your call for enhanced mental health support has driven meaningful action. We've provided additional training for teaching staff, participated in workshops on national initiatives, and introduced a student-led wellbeing ambassador programme. Our frontline staff have undergone Mental Health First Aid training, ensuring a supportive environment for all.
"The mental health services are a very good asset to the University."
4. Addressing the cost of living
To alleviate the impact of the cost-of-living crisis, we offer free breakfasts during term time; we have distributed hundreds of recipe kits for nutritious meals and introduced heavily subsidized £2 meals at lunchtime throughout the year.
5. Preparation for placements
Recognizing the need for better preparation for placements, a dedicated placement module is being introduced for all students undertaking a placement year. This ensures you are well-prepared to maximize the benefits of your placement experience.
"I was able to spend a year at Bocconi University, one of the best universities in the world for social sciences."
6. Venture Creation for Business students
In response to your desire for more opportunities in entrepreneurship, we've created a Venture Creation module. Since its inception in July, four new businesses have commenced—a testament to your entrepreneurial spirit.
"The majority of my modules engaged me a lot more than I had anticipated, making my time at uni very rewarding due to the mix of high-level content."
"Third-year module choices are amazing; it is great to learn from some incredible academics."
7. Resources - Bloomberg Lab Upgrade
Your call for updated equipment in the Bloomberg lab has been answered. We've introduced new computers and are working with IT to make improvements and ensure the best possible learning experience.
"Good online resources through Canvas. Access to readings through Sussex Library search is great."
Why your survey participation matters
Participating in surveys, such as the National Student Survey (NSS) which is run every January to April for final-year undergraduates, and end-of-term module surveys, is more than an opportunity to voice your opinions—it's a chance to enact tangible change. Your feedback directly shapes the improvements we make, benefiting not only you but also future students. We encourage each of you to actively participate in student surveys, making your voice a catalyst for positive change.
At the Business School, your feedback isn't just heard; it's a driving force behind our commitment to continuous improvement. Together, we shape a future where education is a dynamic, responsive, and collaborative journey. Thank you for making a difference.