Global Engagement Review 2021-2023 highlights positive impact worldwide
Posted on behalf of: Global Engagement
Last updated: Tuesday, 21 November 2023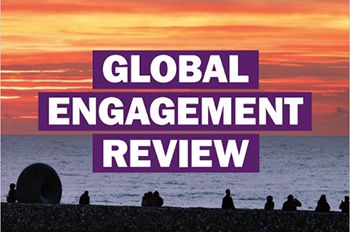 The Global Engagement team is proud to share the University of Sussex's Global Engagement Review 2021–2023.
The publication highlights the exciting global initiatives at Sussex during this period, showcasing some of our impactful engagements with our valued partners across the world. In particular, you will see the positive impact we are making on the lives of students and those who benefit from our research and wider endeavours worldwide.
Li Camm, Associate Director of Global Engagement, states: "'Better University for a Better World' is our vision and purpose for all of our global activities.
"2021-2023 was not easy for many people and this special edition highlights how the University played its role during very challenging times, demonstrating how higher education can be a force for good."
View the Global Engagement Review 2021-2023.