Celebration for students on Sussex scholarships
By: Melinda Lowing
Last updated: Thursday, 3 October 2013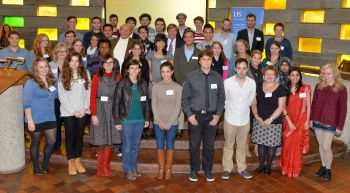 An event to celebrate the successful students who are in receipt of Sussex scholarships was held this week.
Forty undergraduate and postgraduate students were joined in the Meeting House on Wednesday (2 October) by the Vice-Chancellor, Professor Michael Farthing, as well as friends of the University who have given donations to fund scholarships.
Donors present were
Marion Brownridge (who has funded a PhD project into motor neurone disease),
Cate Haste (generously supporting two masters scholars in History and Media, Film and Music),
Sally Hooker (representing the academic publisher SAGE, which has funded three research scholarships),
and Giles Palmer and Matt Roberts from Brandwatch, a Brighton-based company that is supporting a new masters scholarship, the Joe Holmberg Scholarship in Advanced Computer Science, in memory of Joe Holmberg, a Sussex graduate.
The University has made 83 scholarship awards to home/EU and international students this academic year.
There are some further High Flier Scholarships (a one-off payment of £1,000 to freshers who achieved three A grades at A level in one sitting) that are yet to be awarded by some schools.
The Vice-Chancellor congratulated the scholars on their achievements in receiving their scholarships, which are highly competitive awards, and can often be a strong factor in students being able to afford to study at university.
Melissa Lazenby, the recipient of the Peter Carpenter Climate Change Scholarship, spoke about the way in which the scholarship would support her in her PhD in Geography, conducting research into climate change and the African climate system.
The reception was organised by the Student Services team, supported by the Student Funding Team and the Development and Alumni Relations Office.
More than 2,000 first- and second-year students have been invited to a separate welcome event on Wednesday 9 October to mark their support from the First-Generation Scholars Scheme, which is open to students with a household income of less than £42,611 per annum.