Sussex in top 50 most international universities in the world
By: James Hakner
Last updated: Monday, 26 January 2015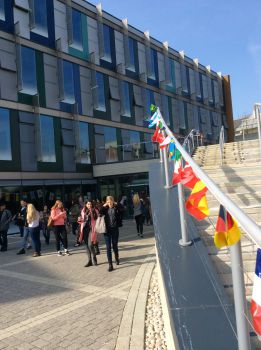 The University of Sussex has been named as one of the 50 most international universities in the world.
Sussex is joint 46th in the list compiled by the Times Higher Education magazine, after taking into account each university's percentage of international staff, its international student numbers and the proportion of its research papers published with a co-author from at least one other country.
The magazine compiled its list using the 'international outlook' indicator of its World University Rankings, which assessed more than 3,000 universities from around the world to create an elite top 400. All the institutions that feature in that top 400 were considered for this latest ranking.
Marcus Williams, the University's Director of Student Recruitment, said: "This clearly demonstrates the internationalism that has run through our core since our inception. To be within the top 50 of this prestigious international ranking is no mean feat.
"We are rightly proud of the contribution our international students and staff make to our teaching and learning experience and to our research environment at Sussex. Our One World Week celebrations in spring 2015 will once again celebrate the richness and diversity of our international campus community.
"Our international performance is also reflected in the fact that, between 2009 and 2014, we demonstrated the most improved recruitment performance (at undergraduate level) of any research-intensive university, while also welcoming a 40 per cent increase in overseas doctoral students.
"The University's strategic plan strengthens our commitment to internationalisation by further developing broad and deep international partnerships with some of the world's leading research-led universities."
The magazine said: "A university's international outlook matters. How can an institution expect to attract the very highest calibre of staff and students if it fails to look beyond its own national borders?
"Both the diversity of a university's student body and the extent to which its academics collaborate with international colleagues are signs of how global an institution really is."
Sussex has moved up nine places since the rankings were first published last year.
The University works in partnership with some of the world's leading universities and welcomes students from more than 120 countries. Around 20 per cent of Sussex students come from outside the UK, and the University's teaching and research faculty includes staff from over 50 countries.