Mass Observation Archive wins Heritage Lottery Fund grant
Posted on behalf of: Mass Observation Archive
Last updated: Monday, 8 August 2016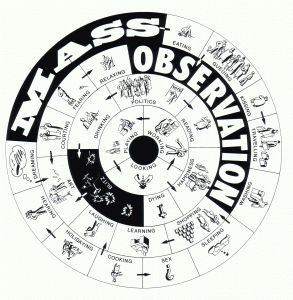 The Mass Observation Archive (MOA), which records the lives of ordinary people, will be working in partnership Blind Veterans UK, the Brighton Housing Trust and Lewes Prison to open up access to the collection.
The two-year Beyond Boxes project begins in September 2016 and is supported by a grant from the Heritage Lottery Fund of £51,300. The project aims to break down the barriers many people face in trying to use archives, be these physical, attitudinal or educational, to ensure that heritage is open to all.
The MOA is a charitable trust in the care of the University of Sussex. It is housed at The Keep as part of the University's Special Collections.
Beyond Boxes will include a range of activities and events, such as a diary day in December for International Day of Disabled People, along with a programme of outreach and in-house workshops at The Keep.
The project will enable participants to explore, examine, analyse, debate and learn about daily life in Britain and make contributions to the Mass Observation Archive that reflect their own lives.
Anthony McCoubrey, Beyond Boxes Project Coordinator, said: "Heritage comes in many social and cultural forms; from historic buildings, to the natural world, to individual possessions.
"But it is also tradition passed down through personal stories, experiences, or writings. Everyone should have the opportunity to contribute their personal heritage so that it is recorded, represented and made available to a wider audience through the Mass Observation Archive."
Katherine Bradley, Members Activities Manager at Blind Veterans UK, said: "Blind Veterans UK is excited to be part of this project. It is wonderful that the experiences of the veterans the charity supports will be recorded and available as part of this project, as well as that all records will be accessible for those with a vision-impairment."
Sara Peskett, at Brighton Housing Trust, said: "People who are street homeless face multiple barriers to accessing and engaging with heritage in Brighton and Hove. Despite forming a significant part of the community within the city, the heritage of people who are rough sleeping and their thoughts, experiences and memories are underrepresented. Beyond Boxes is a fantastic initiative providing many opportunities for clients of BHT to engage with and actively contribute to the historical archives."
Emma Bach, Librarian at Lewes Prison, said: "Beyond Boxes will help to remove barriers to our archives and capture voices outside of the mainstream. It can also offer prisoners opportunities to identify where they 'are' now, inspire goals for change and hopes for a different future – vital steps in the process of rehabilitation."