Brilliant minds inspire new University of Sussex fellowships
By: James Hakner
Last updated: Monday, 24 October 2016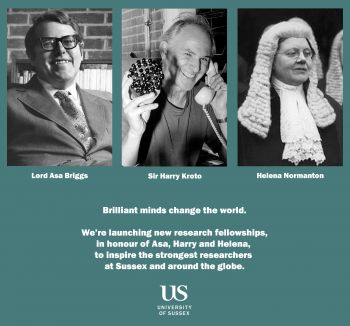 Brilliant minds from the University of Sussex's past have inspired three new fellowships, launching today (Monday 24 October 2016).
The fellowships aim to inspire the strongest and emerging researchers at Sussex, and globally, to follow in the footsteps of three people who have had a huge impact on the University and the wider world.
Asa Briggs, who died earlier this year, was a world-renowned historian, Second World War code breaker and one of the University's founding fathers (later Vice-Chancellor). The Asa Briggs Visiting Fellowships aim to attract the world's most outstanding researchers to Sussex for short-term, high-impact collaborations.
The Harry Kroto Fellowships, meanwhile, will see the brightest research talent from Sussex visiting one of its partner universities overseas. Harry Kroto, who also died this year, won a Nobel Prize while at Sussex for his discovery of a previously unknown form of carbon and was a passionate advocate for young people.
The Helena Normanton International Postdoctoral Fellowships are named after the first woman to practise at the Bar in England, the first woman to lead the prosecution in a murder trial, the first woman to conduct a trial in America, and the first married British woman to be issued a passport in her maiden name. Significantly for Sussex, she was also the first person to leave a legacy in her will to the University, in 1957. The fully funded, two-year Fellowships in her name are designed to attract the most promising researchers in areas in which Sussex is a world leader: quantum technology and international development have been selected as the areas for the first fellowships.
Professor Michael Davies, Pro-Vice-Chancellor (Research), said: "Helena Normanton, Asa Briggs and Harry Kroto took the University of Sussex from inception to Nobel Prize in just four decades.
"When we think about the types of people we want to attract with these fellowships – trailblazers, pioneers, visionaries, leaders – nobody better encapsulates these qualities than these three remarkable individuals."
For more details, visit the relevant web page:
With application deadlines for the Kroto and Briggs fellowships either side of Christmas, colleagues are encouraged to apply as soon as possible.
The Sussex Research team will be holding drop-in sessions to answer questions about the fellowships on:
10am – 12 noon on Thursday 3 November in Arts C 119
10am – 12 noon on Wednesday 9 November in R&E in Falmer House.