Celebrate women's fitness, sport and wellbeing on campus with a packed week of events
Posted on behalf of: Sussexsport
Last updated: Thursday, 3 November 2016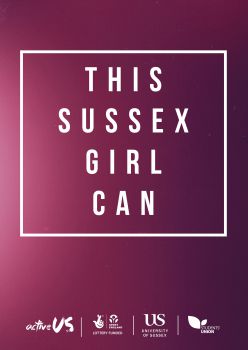 Sussexsport and Active US are excited to announce a packed week of events celebrating female fitness, sport and wellbeing on campus, as part of This BUCS Girl Can Week - a national campaign organised by British Universities and Colleges Sport (BUCS).
This BUCS Girl Can week will be running from Monday 7 November – Sunday 13 November and we have a range of activities planned: including free Active US sessions all week for female students; our first ever Zumba Step class; free martial arts club sessions for female newcomers and an inspiring talk on endurance running by legends Susie Chan and Elise Downing.
There will also be lots of opportunities to win prizes and grab some great giveaways, including our very own 'This Sussex Girl Can' t-shirts.
You can follow the week on social media using the #ThisSussexGirlCan hashtag. And we want you to get involved and tell us what women's fitness, sport and wellbeing means to you.
Post photos throughout the week using the hashtag to show us your inspiring images, attend a free Active US session or take part in our Zumba Step class and you'll automatically be entered into a raffle to be in with a chance of winning a FitBit Charge HR!
You can check out the full timetable for the week below. Make sure to follow Sussexsport on Facebook and Twitter, and Active US on Facebook, Twitter and Instagram to keep up with events and get the latest updates.
This BUCS Girl Can Week:
All student Active US sessions (excluding £1 swim) are free to female participants from Monday 7 November – Sunday 13 November. The offer includes our Sunday Bouldering session on 13 November.
Free martial arts sessions for all female newcomers to the clubs, open to all women on campus. Try out Integrated Martial Arts on Monday 7 November 7pm-8.30pm or Wednesday 9 November 8.30pm-10pm; Kickboxing on Wednesday 9 November 1pm-3pm or Saturday 12 November 2pm-3pm; Shaolin Kung Fu on Tuesday 8 November 8pm-9.30pm, Wednesday 9 November 7pm-8.30pm or Sunday 13 November 12.30pm-2pm. Shaolin are also offering female participants half price membership if they join during This BUCS Girl Can week or the week after. Staff and students are welcome at martial arts club sessions. More information on our martial arts clubs and joining fees outside of the week for students, staff and alumni is available online.
Why I Run: an inspirational talk from endurance runners Susie Chan and Elise Downing on Tuesday 8 November at 6pm-7pm in Jubilee room 144. Susie and Elise will talk about their running experiences: including overcoming the difficult times, how to prepare for races/training and the confidence that running has given them. This event is gender neutral and open to everyone on campus. Places are limited so book online now.
BUCS Wednesday: show support for our amazing student sports clubs on Wednesday 9 November. Everyone is welcome to watch our student teams do what they do best and represent the University of Sussex in the BUCS league. Get some food and drink in the new Students' Union bar The Clubhouse, situated at our Falmer Sport Complex, and watch our outdoor sports teams compete. And look out for player profiles of some of our talented female sports stars on social media throughout BUCS Wednesday! You can check upcoming fixtures on the BUCS website to see who our teams are playing against.
Try our first ever Zumba Step class! This special group exercise class is free, open to all women on campus and you don't need to be a member of Sussexsport to attend. Everyone participating will get a limited edition 'This Sussex Girl Can' t-shirt. The class takes place on Thursday 10 November, 5pm-6pm at the Sport Centre. Book via Eventbrite now to guarantee your space.
We'll be releasing lots more information closer to the week, so visit our social media channels and webpages for the latest news. If you have any questions about the week, you can contact us via email on: sussexsport@sussex.ac.uk.