Overhunting results in wide-spread declines in tropical mammal & bird populations
Posted on behalf of: School of Life Sciences
Last updated: Friday, 21 April 2017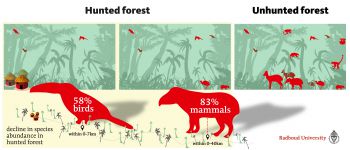 Tropical mammal and bird populations dramatically decline in overhunted areas – new research reveals.
The major study published in the renowned journal Science, reveals hunting accounts for a 83 percent decline in mammal populations and a 58 percent decline in bird populations in the tropical regions of Central and South America, Africa and Asia.
Led by the Radboud University in Nijmegen in the Netherlands, scientists from the University of Sussex, the Netherlands Environmental Assessment Agency and the universities of Wageningen and Utrecht, analysed the findings of nearly 200 (176) local studies. They can reveal that hunting causes the abundance of tropical birds and mammals to significantly decline within 7 and 40 km of hunters' access points respectively, such as roads and settlements.
Crucially, the team has also discovered that commercial hunting has a higher impact than subsistence hunting and that hunting pressure is higher in areas with better accessibility to major towns, where wild meat can be traded. They also found that declines in larger species are particularly extensive in close proximity to human settlements. Additionally, mammal populations have been reduced by hunting even within protected areas.
Dr Ana Benítez-López, who led the study, from Radboud University in Nijmegen, said: "There are several drivers of animal decline in tropical landscapes: habitat destruction, overhunting, fragmentation etcetera. While deforestation and habitat loss can be monitored using remote sensing, hunting can only be tracked on the ground with great difficulty. Obtaining a large-scale estimate of animal declines caused by hunting was therefore a challenge. Here we managed to develop a consistent way of estimating the impact of hunting across the tropics by using the distance to hunters' access points as a proxy of hunting pressure. This allowed us to calculate impact zones for birds and mammals, which in the future can be used to map the areas which may be most at risk."
"We urgently need coordinated strategies to sustainably manage wild meat hunting in both protected and unprotected tropical ecosystems to avoid further loss of wildlife. This includes monitoring hunting activities, increasing anti-poaching patrols and controlling overexploitation via law enforcement. This is unlikely to be successful if local communities are not effectively engaged."
Daniel Ingram, from the University of Sussex, said: "Overhunting is a major threat to wildlife, particularly in tropical regions, and our study shows the magnitude of the effect it can have on mammal and bird populations across a large scale. It is important that governments world-wide recognise that the depletion of wildlife also threatens the millions of people that rely on it for food, traditional medicine, and as a source of livelihood. Governments across the world must act now to safeguard both wildlife and those that rely on it, before it is too late."