£1.5 million Biological Imaging Centre investment to drive vital cancer & neuroscience research
By: Lynsey Ford
Last updated: Tuesday, 25 April 2017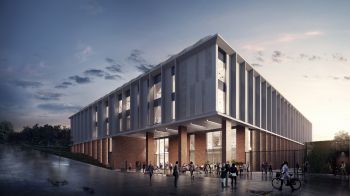 The University of Sussex's new Biological Imaging Centre, which will drive vital research into cancer and neuroscience, has received a major £1.5 million investment from the prestigious Wolfson Foundation.
The Centre will be part of the University's new state-of-the-art Life Sciences building, which recently received approval from Brighton & Hove City Council and is scheduled to open in 2020. The University can also announce, that in recognition of the generous investment from The Wolfson Foundation, it will name the new imaging facility 'the Wolfson Centre for Biological Imaging'.
The University of Sussex is home to some of the UK's leading Life Sciences researchers, who are at the forefront of cancer cell biology and neuroscience research. The £1.5million from the Wolfson Foundation will be spent on building the Centre and equipping it with the very latest biotechnology equipment.
Director of Development and Alumni Relations at the University of Sussex, Dr Marina Pedreira-Vilarino, said: "The Wolfson Centre for Biological Imaging will enable scientists to use the very latest, high-tech equipment to make discoveries which will help transform people's lives.
"We are extremely grateful to The Wolfson Foundation for investing in this state-of-the-art Centre, which I'm certain will have a lasting legacy for years to come."
The University's links with the Wolfson Foundation are long established. In 2001 the Charity helped to create the University's Genome Damage and Stability Centre which has become a world-leading centre for cancer cell biology research.
The CEO of the Wolfson Foundation, Paul Ramsbottom, said: "The Wolfson Foundation is a charity that funds excellence in research. The Centre will house sophisticated imaging equipment supporting research with direct application to a number of important medical areas, including cancer and neurological conditions. Ongoing advances in technology mean there could be no more important time to make this investment.
"We are delighted once again to be working with the University of Sussex and hope that this funding will create an outstanding Centre leading to important advances in understanding."
The quality of the University of Sussex's Biological and Biomedical research was recently acknowledged in the 2014 Research Excellence Framework results (REF2014). The University was ranked in the Top 10 overall and equal 8th for research output quality, positioning the institution alongside others such as University of Cambridge, University College London and King's College London.