Maya Unnithan's inaugural professional lecture - recording now available
By: Centre for Cultures of Reproduction
Last updated: Thursday, 1 June 2017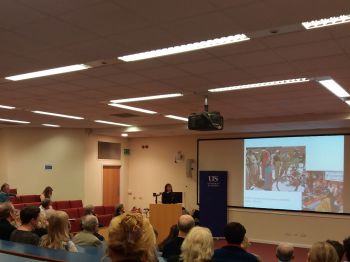 Professor Maya Unnithan's inaugural professorial lecture took place on Wednesday 17 May 2017, 6.30pm at the University of Sussex.
Reproductive Politics in India: Giving the Body a Voice
How is family-making and childbearing undertaken in a globalising India where highly regulated population policies and strongly patriarchal caste ideologies co-exist with advanced reproductive technologies and rights-based maternal healthcare development programmes?
In the lecture I draw on long term ethnography and the accounts of families in peri-urban Rajasthan to show how the conflicting reproductive demands of the state, kin and family are navigated in terms of notions of self and entitlements. A focus on the politics of reproduction, fertility, and the body gives a very different perspective on the power of institutions in India from how it is normally studied and understood.
The lecture recording can be found here - https://media.brighton.ac.uk/CRS2/Maya_Unnithan_17-05-17_-_20170518_070529_11.html