Long-time SussexFood manager has tea with the Queen
By: Rachel Adamantos
Last updated: Tuesday, 13 June 2017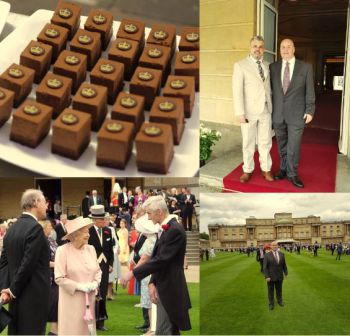 A long-time SussexFood manager has had tea with the Queen.
Every year, the Queen hosts a series of garden parties in the grounds of Buckingham Palace to be attended by selected members of the public as gratitude for their contribution to society. This year, the University of Sussex were asked to nominate a representative whose hard work and dedication was deserving of such an honour.
The University chose to nominate SussexFood's Ron Bowden, a long-time committed member of staff who has worked for the catering and hospitality services at Sussex for 10 years.
His name was put forward by Charles Dudley, Director of Campus Services, and supported by all of his friends and colleagues from both SussexFood and the University as a whole. Ron was absolutely delighted to accept the invitation and could not wait to attend the event, which happened to fall on his birthday.
The day itself was a fantastic experience that Ron and his partner David will never forget. The sun was out and it was a lovely day for all involved.
The event was attended by not just the Queen herself but also the Duke of Edinburgh, Princess Anne, Prince William and the Duchess of Cambridge. Ron was lucky enough to get up close and capture some fantastic shots of the royals in action.
The Queen takes the time to host her garden parties every year as an important opportunity to address members of the public from all walks of life who have made a positive impact on their community. Over 27,000 cups of tea and 20,000 slices of cake are consumed at each event, highlighting the core values of the British public and our royals!