An update from the Vice-Chancellor
Posted on behalf of: Internal Communications
Last updated: Tuesday, 24 May 2022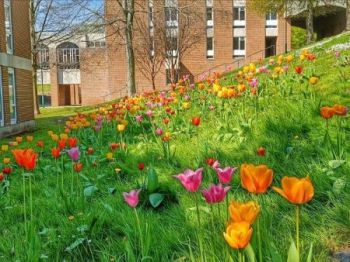 On Monday 23 May, David Maguire sent a message to all staff. You can read the message below:


Dear colleague,
Today (Monday) I will be among those saying a very big thank you to members of Sussex staff who helped us through the Covid-19 pandemic. We are holding a special event at the ACCA for some of those across the University who worked tirelessly during those difficult months to ensure the health and safety of our community.
Sussex has already been recognised nationally for its response to Covid in terms of business continuity. In both 2021 and 2022 we were awarded the HEBCoN prize for Covid Pandemic Response. But we felt this needed to be acknowledged by us, too. There were so many examples of truly impressive work by staff – from setting up and running the first university Asymptomatic Testing Centre and creating a Covid reporting app and Track and Trace system, to producing an emergency supply of personal protection equipment (PPE), to collaborative working across the University and with external partners such as Public Health. There were also may acts of individual kindness on campus and in our home communities. It was a worrying time for everyone, but I wanted to congratulate those whose swift and effective response to the crisis eased some of those concerns.
Indeed, I am immensely impressed by cross-team working at Sussex. Collaboration is one of our key values and, from my experience, it is certainly a strength here. Perhaps it is our campus environment, encircled as we are by the beauty of the Downs, that inspires us to work together in creative and productive ways – whether that's across academic disciplines, or within our professional services teams, or by integrating our students into the process through initiatives such as the Connector Programme.
In the past week I have been reviewing the progress of two of our major digital infrastructure projects. A new Student Information System will bring together essential elements of record keeping to ensure that we are supporting students from before they arrive to after they leave. Our Network Replacement Programme will provide a much-needed new, secure, high-speed wired and wireless campus data network. While we are a some way off seeing these projects completed, I have every confidence that the teams working on them will deliver exactly what Sussex needs to stay digitally robust in the higher education landscape. Progress is also being made on the collection of projects that form part of the major West Slope development.
This week sees the start of UCU's new industrial action. It is regretful that the dispute between the union and universities nationally over pay, working conditions and pensions has not been resolved and that our UCU members are now being encouraged to take Action Short of a Strike' (ASOS), possibly including a marking and assessment boycott. We have been doing our best locally to avert the strike and I very much hope that we can reach a Sussex agreement to work together. Separately, Provost Rachel Mills has written about how we are trying our best to mitigate any impact. I am grateful to those members who, while exercising their right to take industrial action, have nevertheless done all they can to minimise the impact on students' progress.
I was pleased that we had a slightly higher response in our recent confidential staff survey than our last pulse survey in autumn 2021.
Thank you to everyone who filled it in. The headline data should be available to the University in the middle of June.
Like many of you, I have taken great pleasure in getting out and about on our colourful campus in the sunshine in the past week. I did the Boundary Walk during a lunch hour, and I have really enjoyed seeing the abundance of wildflowers and wildlife in our green spaces as a result of 'no mow May'. I will miss many things about Sussex when I leave in July. The beauty of campus is very near the top of that list. I hope you are able to enjoy campus in the company of colleagues this week.
Warm regards,

David Maguire
Interim Vice-Chancellor