Music for Girls exhibition now open
Posted on behalf of: School of Media, Arts and Humanities
Last updated: Thursday, 29 September 2022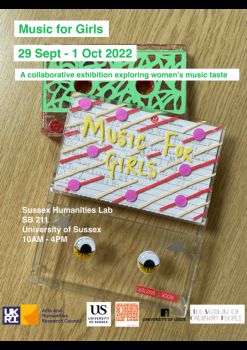 What does it mean for women to come together and "talk music" with each other? What does it mean to know something about music? How do women's collective and individual life stories shape and inflect that knowledge? Can we develop new ways of articulating our knowledge about music by focusing on the personal stories and life experiences of women and girls?
These were some of the questions behind Music for Girls, a collaboratively-curated exhibition with women from the Brighton area. We invited local participants who identified in some way with the labels "women" and/or "girls" to bring musical objects that were meaningful to them and around which they could weave personal stories.
As the stories and experiences started to emerge, not only did we learn about bands, idols, albums, performances, but also about family, relationships, migration, loss, shame, connection, and personal change. We also noticed threads concerning material and digital culture, media archaeology, artistic practice, DIY culture, archiving, and fandom.
These stories have now been turned into an exhibition which explores tastes, fandom, memorabilia, and much more. This runs from today (Thursday 29 September) until Saturday 1 October and is open from 10 am - 4 pm in the Sussex Humanities Lab (Silverstone 211). Open to all – do pop in and see us!
Participants varied in age (from 15 to 70+) and came from a range of backgrounds. The materials, ideas, and objects were gathered over two days in July 2022.
The project is funded by the Arts and Humanities Research Council and works across the University of Sussex, the Museum of Ordinary People, and the University of Leeds.
The Music for Girls Exhibition was brought you by:
Rosa Abbott
Florence Brown
Yvette Eady
Rachael Foster
Zeina Frangie-Eyres
Mimi Haddon
Loubna Khamlich
Daisy Leitch
Lucy Malone
Tom Metcalf
Carol Merrett
Elle Osbourne
Alex Peverett
Calista Stickells
Meg Sweeney
Marilyn Walker
Sharon Webb