International Women's Day 2023 - Book Reading and Q&A with Author Sheena Patel
Posted on behalf of: EDI Unit
Last updated: Tuesday, 21 February 2023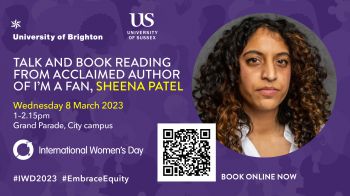 To mark International Women's Day on the 8 March the Universities of Brighton and Sussex are hosting a book reading and Q&A with author Sheena Patel. Author of "I'm a Fan", Sheena Patel explores themes of race, gender, and power dynamics in her popular new novel.
Sheena has won the 2022 Foyles Prize for Fiction for her debut novel and been listed as one of the 10 best debut novelists for 2022 by the Observer. The Evening Standard has called it 'book of the year'.
Reviewers have called the novel brutal and brilliant in how it handles topics of inequality, feminism, and modern life. Through the lens of "fandom", this book shows you the impact of obsession on our sense of self. The book's protagonist is full of fire, sucking you in to her perspective and leaving you hanging on to every word.
The event will take place at the University of Brighton Grand Parade campus. Please come along, even If you haven't read the book! For those interested, copies of 'I'm a Fan' are available to purchase after the event, with thanks to the Feminist Book Shop.
Please be aware that the book contains strong language and deals directly with mature themes which may not be suitable for younger audiences, it is your own responsibility to decide if this event is suitable for you or your guests.
No refreshments provided but there is a café open at Grand Parade, you are also welcome to bring in a water bottle.
Time: 13:00 – 14:15
Date: Wednesday 8th March 2023
Location: Grand Parade in Room M2 (room is accessible via a lift)
Open to: Public, Staff, Students.
To book: Please visit: https://delegate.brighton.ac.uk/IWDSheenaPatel
Please contact equality@brighton.ac.uk if you have any access needs for the event, it is best if we are informed before the event to ensure we can accommodate you properly.