Mass Observation Coronation Project and 12 May 2023 Day Diary
Posted on behalf of: Mass Observation Archive
Last updated: Friday, 17 March 2023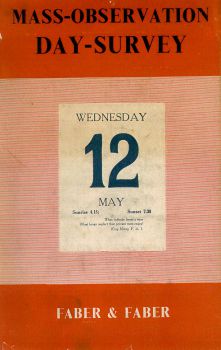 May is always the busiest month of Mass Observation's year. This year it is even busier with two national invitations to contribute to the archive.
Mass Observation 2023 Coronation Project
Mass Observation has recorded royal events since 12 May 1937. This was the day of George VI's Coronation. Mass Observation also recorded Queen Elizabeth II's Coronation on 2nd June 1953 and it has captured royal events thereafter.
This year will see the Coronation of King Charles III on Saturday 6 May 2023 and Mass Observation is keen to find out how the coronation is commemorated, whether people take part in any events or activities and what they think and feel about the occasion. We are also keen to hear from those, who will not be following events.
We are inviting people to observe and record any activities or events in their local area, so we can piece together a picture of the country as it commemorates the Coronation of King Charles III. Alongside this national call, Mass Observation will be sending a mobile unit of observers to London specifically to record events as they take place.
To take part, people can observe and record events in their local area over the bank holiday weekend. Their account can be written in any style and include drawings and photographs. They can also record any plans or preparations for the following events, which may include;
6 May Coronation of King Charles III
7 May Coronation Big Lunch, will see parties and community lunches held in streets, gardens, parks and public spaces across the country.
8 May Big Help Out, intended to create a lasting legacy of the coronation weekend with people encouraged to spend a day volunteering in their communities.
These accounts will inform research and teaching activities and be kept alongside Mass Observation's records of royal events from 1937 onwards and provide an invaluable record of this historic occasion for future generations.
Mass Observation 12 May Day Diary
In addition to the Coronation Project 2023, the Mass Observation Archive will be repeating its national call for day diaries, capturing the everyday lives of people across the UK. This will mark the 13th year of 12 May national diary day.
In 1937, Mass Observation first called for people from all parts of the UK to record everything they did from when they woke up in the morning to when they went to sleep at night on 12 May. This was the day of George VI's Coronation. The resulting diaries provide a wonderful glimpse into the everyday lives of people across Britain. They have become an invaluable national resource for those researching countless aspects of the era.
It will be interesting to see how our lives have changed in 2023. People of all ages from across the UK are all welcome to take part to help Mass Observation record our lives today.
The diaries will be stored in the Archive at The Keep in Sussex and be used by a wide range of people for research, teaching and learning, now and in the future.
Schools and Community Groups
We welcome 2023 Coronation accounts and 12 May diaries from school children, families, community groups, or other organisations. These can be written in any style and can include drawings and photographs.
Resources on our website are designed for schools and community groups wanting to post their accounts and/or diaries in batches to the Archive.
For details on how to take part please visit our website
Ideally, 2023 Coronation accounts and 12 May diaries from individuals should be in electronic form as email attachments (Word documents or PDF) and sent to moa@sussex.ac.uk
We will also accept physical/hard-copy diaries which can be posted to MOA at The Keep.
You can also take part on Twitter @MassObsArchive.
Tweet using the hashtag #2023MOCoronation
Tweet your day using the hashtag #12May23
Or share your account or day via Instagram massobsarchive
Contact details for further information
Listen to the MO Team talk about 12 May
Website: www.massobs.org.uk
Twitter: @MassObsArchive
E-Mail: moa@sussex.ac.uk
Instagram: massobsarchive
Diary content
Value to researchers
"Mass Observation provides an invaluable resource for social and cultural historians of 20th & 21st Century Britain; access to views thoughts, feelings and experiences of the 'ordinary person' that is simply not available elsewhere." Lucy Noakes, Professor of Modern History, University of Essex
Early 1930's diaries
'[The volunteer panel] immediately puts us in touch with a section of people in the population who were at one and the same time ordinary, hardworking folk and also intelligent and interesting enough to want to help us. We did not regard these people as being themselves scientists studying the mass, nor did we consider them as being a random sample of public opinion. Their position was something different. They were observers, untrained but shrewd, placed at vantage points for seeing and describing in their own simple language what life looks like in the various environments which go to make up England.' Charles Madge, Co-founder of Mass Observation in 1937
Examples of images, which can be used to accompany press coverage, which can be requested from MOA. Extracts of 12 May diaries can also be provided upon request.