University in top 50 worldwide in key sustainability rankings
Posted on behalf of: Internal Communications
Last updated: Wednesday, 21 June 2023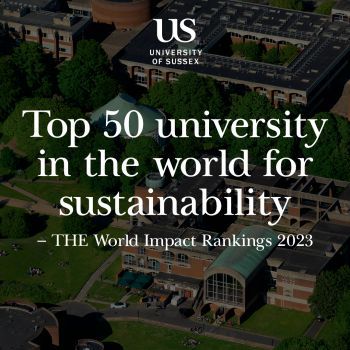 Times Higher Education (THE) has today published the 2023 Impact Rankings - the global performance tables that assess universities against the United Nations' Sustainable Development Goals (SDGs).
In this, the third consecutive year that we have participated in the rankings, the University of Sussex has achieved an overall place of 49th in the world and 10th in the UK. More universities than ever are choosing to participate in the rankings as the importance of sustainability within the higher education sector grows annually. While we have slightly dropped from 37th last year, being ranked in the top 50 of over 1,500 universities across the world puts us in the top 3.1% globally of sustainable universities and underlines our commitment to transformative change through our Sustainability Strategy.
Vice-Chancellor, Professor Sasha Roseneil, said: "Sustainability is central to Sussex's mission. We are a university that is committed to sustainable development and to making a transformative contribution to tackling the threats posed by climate change and environmental degradation.
"I am delighted to see Sussex once again in the top 50 institutions worldwide in the THE Impact Rankings. This collective achievement speaks of the passionate commitment to global social justice and environmental sustainability that runs across the University There is still much more we can do, however, to develop our research and educational offer in relation to every one of the UN SDGs, as well as to make Sussex a truly sustainable organisation. I look forward to working with the whole Sussex community next academic year to develop plans to put environmental sustainability and human flourishing at the heart of our new strategy.".
Sustainability Manager, Sam Waugh, said: "It's wonderful to be recognised for a third successive year as a top 50 sustainable university. We are fully committed to being net zero by 2035, growing our campus biodiversity, and realising our overall vision of being one of the most sustainable universities in the world."
What are the UN's Sustainable Development Goals?
The SDGs cover all aspects of sustainable development, from poverty, to health and wellbeing, affordable energy and responsible consumption, so the rankings provide an opportunity to highlight the great work that Sussex is doing on campus, in our local environment and further afield.
How did Sussex score?
The University is ranked joint 11th worldwide for SDG 17 - Partnership for the Goals - and we achieved a maximum score of 100 for the metric 'Education for the SDGs' within this measure. In SDG 7 – Affordable and Clean Energy - we scored 100 on 'Energy University Measures'. And, in SDG 10 – Reduced Inequalities – we scored 100 for 'Percentage of Students with disabilities'. These scores, and our worldwide position in the rankings, have been achieved through our commitment to becoming one of the most sustainable universities in the world.
We are ranked in 11 out of 17 SDGs, based on evidence on how we are meeting key sustainability indicators, with the top three scoring SDGs and SDG 17 used to calculate overall score. Our overall score for this year is 91.3 out of a possible 100. Scores are calculated through comparisons across four broad areas:
Research: Delivering the SDGs by creating research in relevant topics.
Stewardship: How universities act as stewards of their physical resources and also their employees, faculty, and students.
Outreach: The work that universities do with their local, regional, national and international communities to create impact on sustainability.
Teaching: Developing the skilled practitioners to deliver on the SDGs and in creating alumni that take forward the key lessons of sustainability into their future careers.