Announcing the Playful Learning Conference 2024 at the University of Sussex
By: Katie Piatt
Last updated: Monday, 11 September 2023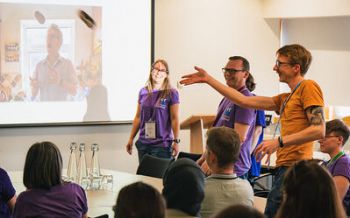 The Playful Learning Conference is pitched at the intersection of learning and play for adults and will take place on 3-5 July 2024 at the University of Sussex.
Playful in approach and outlook, yet underpinned by robust research and working practices, we provide a space where teachers, researchers and students can play, learn and think together. A space to meet other playful people and be inspired by talks, workshops, activities and events. In its new home at the University of Sussex for the next three years (2024, 2025 and 2026), we have spaces that open the programme up to both indoor and outdoor activities, and evening activities that continue the playful learning and conversations after the formal programme ends.
Dr Katie Piatt (Head of Educational Enhancement, University of Sussex) co-Chairs the conference and is now looking for expressions of interest from Sussex colleagues to attend, present, work on the conference committee or volunteer at the event.