Update on improving our employee offer
Posted on behalf of: Colin Shipp, Director of HR
Last updated: Wednesday, 27 September 2023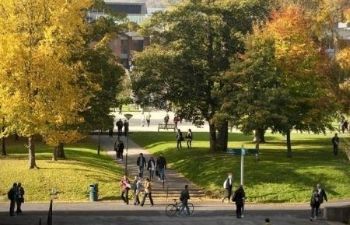 Colin Shipp, Director of HR, updates on progress made since the 2022 agreement made with UCU during the summer of last year.
Last autumn, the University updated you on the agreement reached on several issues with the local branch of the University and College Union (UCU), after a long period of negotiation. The issues covered by the agreement include actions around:
Equalities
Pay and fixed term contracts
Doctoral Tutors' contracts
Workload
Post-6pm teaching
Staff payment
Living Wages
Pensions
Working towards progress on all of these actions is a core focus for the University Executive Team, and is an essential part of our journey to become an employer of choice and an exemplar in the higher education sector.
There has been a great deal of progress on many of the issues, some of which we have communicated during the year. We will share more in-depth updates about what has changed and why over the course of the next few months, but firstly I wanted to provide the below summary of what has already been implemented by the University as a result of the agreement.
Equalities
Extended occupational maternity and adoption pay to full pay for 26 weeks, with no minimum service requirement for eligibility (previously this was 26 weeks)
Established a Carers' Support Fund
Improved guidance and templates for conducting Equality Impact Assessments
Introduced termly Equality, Diversity and Inclusion Joint Negotiating Committee meetings with the campus trade unions, chaired by the Vice-Chancellor


Pay and fixed term contracts
Converted 118 colleagues on Fixed Term Contracts to open-ended contracts to help address concerns about casualisation

Converted 28 casual working arrangements - previously paid via the casual payroll - to fractional, open-ended contracts, with 10 more to be converted shortly
Agreed to make redundancy payments after three years of continuous service at a rate equivalent to 2.25 weeks' pay for each complete year of service, if redeployment or other options for continued employment are not successful (this was previously five years' service)
Committed to ensuring that all staff appointed through Reed Recruitment Agency will, in all instances, follow the levels of pay offered by the University


Doctoral Tutors contracts
Finalised and communicated changes to resolve a number of key issues regarding Doctoral Tutors (DTs), following a year of discussions and negotiations with UCU DT representatives. The changes involve:

Moving all DTs to Grade 6
Improving processes for the hiring and onboarding of DTs
Providing a minimum of 10 hours of paid training for DTs each year

Agreed to the development of a new tariff system for DTs to replace the previous multipliers, to ensure that DT pay is reflective of the work that they undertake


Workload
Agreed principles for fair, transparent and equitable workload allocation


Living wages
University accreditation by the Living Wage Foundation (LWF) resulting in us becoming a Real Living Wage (RLW) Employer. Accreditation ensures that all staff are paid the RLW


As we continue to work with all of our campus trade unions in a spirit of positive collaboration, we are committed to making further progress on issues from the agreement and beyond to improve key areas of Sussex's employment policy and practice. Our commitment to investing in our staff is summarised in our People Strategy, launched earlier this year.
If you have any questions about any of the issues mentioned above and how they might affect you, please send me an email at: c.shipp@sussex.ac.uk.
Colin Shipp
Director of HR