Sussex encouraged me to become the person I am, says entrepreneur Zhang Xin
By: Jacqui Bealing
Last updated: Friday, 12 July 2013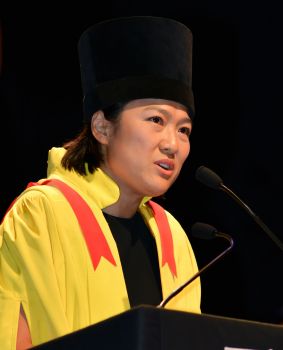 Zhang Xin, regarded as one of the world's most powerful women and successful business entrepreneurs, has paid tribute to her former tutors at the University of Sussex for how they instilled in her "intellectual curiosity, idealism, and the importance of giving back to the world."
She was speaking at the University's summer graduation opening ceremony at The Dome in Brighton on Tueday (9 July), during which she was awarded the honorary degree of Doctor of Laws in recognition of her contribution to the economic development of China.
The presentation was made by Dr Peter Holmes, who was among Zhang Xin's tutors during her undergraduate degree in Development Economics more than 20 years ago.
She said of Dr Holmes: "His exceptional open-minded nature helped me a great deal to explore my intellect. I genuinely valued his encouragement. And since then it has been a pleasure to maintain a lasting, lifelong friendship."
Zhang Xin, who co-founded property development company SOHO China with her husband Pan Shiyi, was born in Beijing in 1965 and worked in a garment factory in Hong Kong from the age of 14 until she had saved enough money to travel to the UK to study at Sussex.
After graduating, she studied for a Masters degree at Cambridge and went on to work in Wall Street before returning to China to start her own enterprise. Forbes Magazine has repeatedly listed her among "The World's 100 Most Powerful Women". She is also a regular commentator on business, current affairs and architecture.
Reflecting on her memories of Sussex, she said: "It is the place that cultivated me, inspired me and encouraged me to follow my deepest instincts and to become the person that I am today. For this I am truly grateful."
In presenting his former student, Dr Holmes said: "It was obvious at the time that she was a remarkable person and would go on to do great things but this could have been in anything. At one level she was just a very bright, lively student. But at another level she had extraordinary knowledge and interests in development, art, music, politics and literature."
Although she had gone on to fulfil those expectations, he noted: "She is still essentially the same person she was in 1989, with strong views about how society should run and a belief in the Bahai faith."