Lecturer's CINECITY film charts Chile's traumatic history
By: James Hakner
Last updated: Tuesday, 25 November 2014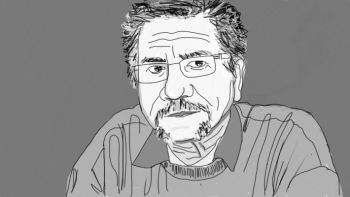 A University of Sussex lecturer's film about his family's ordeal at the hands of Chilean dictator General Pinochet has its debut screening in Brighton tomorrow evening (Wednesday 26 November).
Shortly after Pinochet's military coup in Chile, Adrian Goycoolea's aunt Gaby and her husband and brother were imprisoned, tortured and interrogated by the dictator's military intelligence service.
Adrian's new film Viva Chile Mierda tells the story of his aunt and uncle's relationship with a young prison guard during their three-week detention in 1974 and the role that guard went on to play in exposing the crimes of Pinochet's brutal 17-year-long regime.
Adrian, Senior Lecturer in Media and Film, explains: "This guard, Andres 'Papudo' Valenzuela, relayed information between them and generally kept their spirits up while they were interrogated and tortured. Through various small acts of kindness, he kept them from losing hope.
"Many years later, they were reunited with this guard only to discover that he went on to become a torturer himself, and eventually confessed his crimes. He was the first person from inside the dictatorship to admit that the government was disappearing and torturing people."
Through intimate interview – including with Valenzuela - illustrations, animations and first person voice over, the 88-minute film film traces the lives of both prisoners and guard in order to reflect on the enduring effects of this traumatic history.
Their stories shine light on larger issues of exile, national identity, truth and reconciliation.
Viva Chile Mierda is being shown at the Sallis Benney Theatre as part of Brighton's CINECITY festival. Tickets cost £5 and the screening starts at 6pm.
Adrian was born in Brazil to Chilean and British parents. Over the years, his work has been shown at film festivals such as the Rotterdam International Film Festival, The Moscow International Film Festival, The London Lesbian and Gay Film Festival, and at art galleries including The Artists' Space (NYC), Taller Boriqua (NYC), La Panaderia (Mexico City).