Free ACCA tickets for staff and students: Kandace Springs
By: Tom Walters
Last updated: Tuesday, 2 May 2017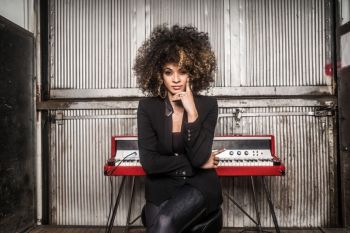 Attenborough Centre for the Creative Arts are pleased to be able to offer free tickets for a special concert taking place on Tuesday 2 May.
Kandace Springs is a singer who is able to assimilate multiple musical touchstones and still come off sounding remarkably fresh and unburdened by the past. The 27-year-old, Nashville-based singer, songwriter and pianist counts such stylists as Billie Holiday, Ella Fitzgerald, Nina Simone, Roberta Flack and Norah Jones as her heroes, but as evidenced by her sparkling full-length Blue Note Records debut, Soul Eyes, Springs mimics none of them. She allows her alto voice to become a conduit that touches upon soul, jazz and pop while transforming those aforementioned influences into a personalized sound that reveals itself effortlessly.
Her 2014 self-titled debut EP had a decidedly contemporary R&B and hip-hop bent, but as Springs got ready to record her album she couldn't shake the feeling that she wasn't yet singing her true self. After rethinking her musical direction she returned to a more spacious, organic sound that channels her earlier jazz influences as well as her Nashville upbringing.

For her album Soul Eyes, Springs continued working closely with producers to bring out her distinctive artistic traits. Grammy-winning producer Larry Klein praises Springs as a "natural". "In this era, in which flash and hunger for fame is often equated with talent, she's that rare person who sings and plays because that is what she needs to do in life," he says. The 11 songs contained on Soul Eyes all feature Springs playing piano alongside an illustrious cast of musicians.

Springs continues to develop as singer and songwriter in her own right. "I would like to be known as one of the younger people that are keeping jazz and soul alive and vibrant," she says. "I love the realness of jazz and soul."
She has recently appeared on BBC Two TV show 'Later... with Jools Holland'.
Read more about Kandace in a recent Guardian article and hear more.
Book with this promotional code: KANDACEFREE at www.attenboroughcentre.com - tickets on a first-come, first-served basis.