Collaboration to ensure disabled staff have a voice in decisions about support
Posted on behalf of: Disability Equality and Inclusion steering group
Last updated: Monday, 5 July 2021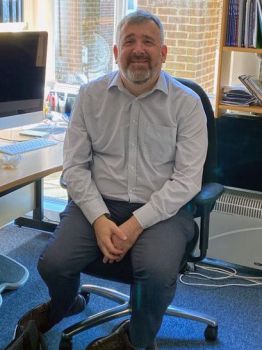 John Walker, Academic Lead on Disability, is working collaboratively with disabled staff and disability-focussed departments across the University to ensure that the views of disabled staff are heard and acted on.
John was appointed in January this year as one of four academic leads supporting delivery of the Equality, Diversity and Inclusion Strategy, Inclusive Sussex.
John and Naomi Harris, the Chair of the Staff Disability Network, established a Disability Equality and Inclusion steering group in February 2021 to take forward this work.
John believes that working collaboratively with Naomi and the Staff Disability Network is essential. He says: "Collaboration is one of our core values. It means much more than consultation and for me it is about ensuring that disabled staff have a voice in the decisions made about how we support them. The relationship between myself, Naomi, the network and the steering group is vital to making sustainable changes that make a difference to disabled staff."
The first task for John, Naomi and the steering group was to develop a set of principles that frame the University's commitment to the representation and inclusion of disabled people in the workplace.
John explains: "This is in contrast to the ableist assumptions that the 'broken' body/mind should be separated from the persona, pitied, medicalised or cured. It is vital that disabled staff owns the language we use to discuss disability – and the development and publication of the principles are important steps in creating that ownership."
The principles, approved by the Staff Disability Network, the Inclusive Sussex Programme Board and the People, Culture and Inclusion Committee, are published on the EDI webpages.
In recent weeks the Disability Equality and Inclusion steering group has been considering feedback from the Staff Disability Network and results from the staff pulse survey in February 2021, which indicated lower levels of engagement and a less positive experience for disabled staff. The pulse survey results will help inform a review to understand where there are gaps in provision, where current provision is not working as it should, and where improvements are needed.
A focus group of disabled staff, brought together after the pulse survey, suggested a number of actions, including:
Support disabled staff members who are working from home and potentially experiencing further marginalisation due to the nature of the work.
Capture the change of systems as a result of lockdown and working from home that has benefited disabled people, and explore how these opportunities can continue after staff members return to campus.
Enhance the opportunity to build a social network and community for disabled staff through more social events.
As Sussex staff prepare to return to campus after more than a year of working from home, these recommendations have been added to an overall action list for consideration by the steering group. In turn, this action plan will help the University to achieve its Disability Confident goals in Inclusive Sussex.
John says: "Although there have been impacts for all staff in dealing with the Covid-19 pandemic, some staff with disabilities have had additional mental and physical health challenges (including, for example, the need to shield).
"It is important to understand the different and potentially opposite impacts on disabled staff. For some, working from home has created new obstacles or exacerbated existing ones; others have benefited from the options for more flexible working patterns.
"Similarly, blended learning and working (with some people present in person, and others remote) poses challenges for all staff – but this can be far more challenging for some, such as sign-language users, where focussing on two audiences, the content and the interpreter is a challenge.
"Clearly individuals have different requirements depending on their disabling experiences, the adaptations they are familiar with and the systems they work in.
"As we prepare to return to campus, it is important that we are flexible to meet these different needs, and to ensure that all staff can find a way to work that is effective for them. We want to take the opportunity to learn lessons from the experience of remote working and not lose any beneficial changes we have gained in the process."