Global Engagement – a focus on international students and partnerships during Summer 2022
Posted on behalf of: Global Engagement
Last updated: Tuesday, 5 July 2022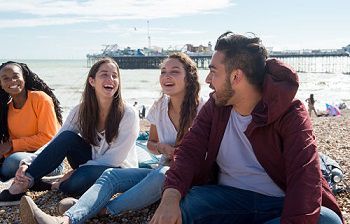 It's been a busy time for our Global Engagement team, as we continue to grow the University's global reputation over the summer months and beyond. One of the ways we demonstrate our commitment to internationalisation is through engagement with partners from around the world – take a look at the initiatives recently delivered and currently underway:
What's happened recently?
Under the banner 'Shaping the Future', the Global Engagement team held a successful Global Partnerships Conference 2022 on 21 - 23 June. With over 200 people registered for the online event, attendees took part in webinars and workshops delivered in partnership with guest speakers, Sussex faculty, and alumni.
The conference explored how recent disruptions to the way institutions operate are shaping the future of international education – and how we might align international engagement activities to the delivery of the UN Sustainable Development Goals.
Accentuating the value of partnerships and a global outlook, the conference also demonstrated true collaborative working across the university, involving academic Schools and Professional Service divisions.
What's underway at the moment?
The International Junior Research Associates (JRA) scheme sprang to life on Monday 27 June.
Supporting academically gifted undergraduates from close institutional partners, the scheme enables students to undertake supervised research during the summer whilst broadening their faculty connections. We are delighted to welcome nineteen students from key partners including:
Mahidol University, Thailand (working with the Life Sciences faculty).
The Tata Institute of Social Science, India (working with the Global Engagement team)
The National Autonomous University, Mexico (working with the Law faculty).
The University of Lagos, Nigeria (working with the Business School).
The University of Chicago, USA (working with School of Media, Arts and Humanities).
The University of Southern California, USA (working with School of Psychology).
We're pleased to also be able to build on previous work, by supporting five students from our joint AI Institute with Zhejiang Gongshang University, China, via online projects developed by School of Engineering and Informatics.
Up next, the University is happy to announce that the Undergraduate Summer School has once again opened its doors to students from our global partners. Due to the impact of the pandemic, this is the first Summer School since 2019, and the Global Programmes team welcomed 150 students from 35 international universities, with a diversity stretching across 15 countries and 4 continents.
Schools and Professional Services work closely together to deliver a summer programme which celebrates our academic strengths and ensures a positive and supportive student experience on campus.
Global mobility opportunities for staff
We also have three exciting global mobility schemes that are open to Academic and Professional Services colleagues. Launched by the Global Mobility team, the schemes offer opportunities to visit our international partners in Europe and further afield. Enabling personal development, collaboration and sharing of expertise with institutions across the globe, the schemes are:
European Partnership Development Fellowship
Erasmus+ Staff Mobility Programme
Professional Services Fellowship
Find out more on the Staff Hub, including how to apply.