BMEc holds end-of-year award ceremony
By: Russell Eke
Last updated: Thursday, 20 June 2013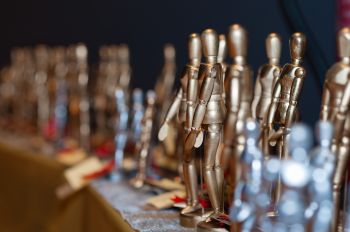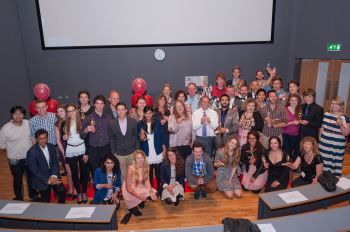 On Tuesday 11 June, the Jubilee lecture theatre underwent a Hollywood makeover and transformed for the evening into the Kodak Theatre, LA.
Over 250 staff and students from the School of Business, Management and Economics (BMEc) walked down the red carpet to a special Oscars-style awards ceremony to celebrate a year of stellar achievements.
Over a two-week period at the end of May, staff and students from across the School nominated each other for excellence in a variety of categories ranging from 'Best Student Entrepreneur',' Best Student Rep' and 'Best Student Society' through to 'Outstanding PhD student', 'Best Lecturer' and 'Best Seminar Tutor'.
Nominees were then shortlisted and the winners were announced at the glittering evening awards ceremony.
No expense was spared by the organisers, who managed to fly in 'Anjuliena' Jolie and Brad Fitt (a.k.a BMEc faculty members Dr Julie Litchfield and Mark Fisher) to host the first annual awards ceremony, during which 57 winners and runners-up were awarded the BMEc equivalent of an Oscar.
Head of School, Professor Ian Davidson, said: "This Oscars-style awards ceremony was a fantastic opportunity for the School's students and staff to come together and celebrate our successes, and provided a fitting finale to our first year in the new Jubilee Building.
"It is hugely encouraging to hear the positive feedback from both staff and students and to have the chance to reward those who have made a real difference to the School throughout the year.
"We look forward to such a successful and enjoyable ceremony becoming an annual BMEc event."
See the full list of winners and a photo gallery from the evening on the BMEc Facebook page