Dare to Dream: Lessons for sports, business and life with Colin Jackson
By: Russell Eke
Last updated: Monday, 14 October 2013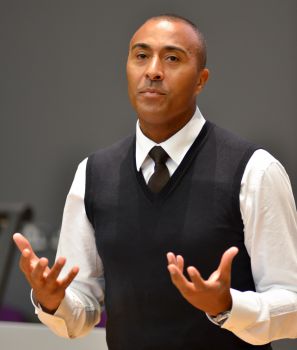 World-champion hurdler Colin Jackson visited the School of Business, Management and Economics (BMEc) on Wednesday (9 October) to deliver the inaugural lecture in the LEAD lecture series to showcase excellence in leadership.
Colin inspired the audience to "Dare to Dream" with tales of successes, and setbacks, from his illustrious athletics career. He shared his lessons on how to strive for excellence through hard work, learning from others, having a great support team and aiming high.

Colin warned us against resting on our laurels after achieving a goal. As he advised the then up-and-coming sprinter Usain Bolt, setting new, stretching goals is the key to sustained performance.
His lessons are valuable not only for sporting achievement but also in business and life in general.
Don't miss the second lecture from the LEAD series on Wednesday 23 October, when entrepreneur Frederic Nze will talk about his journey to set up a bank to serve underprivileged communities in the UK.