Understand curriculum design principles and strategies to help students master feedback literacy skills, and approaches.
What is feedback literacy?
Feedback literacy is defined as "the understandings, capacities and dispositions needed to make sense of information and use it to enhance work or learning strategies" (Carless and Boud, 2018).  
In other words, feedback literate people are not simply passive recipients of feedback. Rather, they:
appreciate feedback as an active and reciprocal process, of which they are part
recognise the role of feedback in their continuous improvement
are active in seeking out and engaging with feedback from others
are open to critique and are sensitive and constructive in offering feedback to others
have the skills to interpret and act on the feedback they receive.
These are lifelong skills, as valuable in the workplace as they are in the classroom. 
Why focus on feedback literacy?
This is a learning- centred approach to feedback which focuses attention on the actions of students rather than, primarily, as an act of teachers.
Developing students' feedback literacy can help them:
become engaged, proactive and independent learners 
build the emotional and intellectual confidence to seek out, and engage in dialogues about their subjects
recognise the skills they are developing through their studies
develop their understanding of, and critical engagement with, their subjects
feel seen, heard and supported through their learning journey because they recognise how the feedback they have received has helped them to learn and develop.
For academics, a focus on improving student feedback literacy can contribute towards:
constructive reflection on teaching and assessment design (formative and summative)
improved student experience metrics.
Curriculum design principles for embedding feedback literacy
Developing students' feedback literacy is a cumulative and iterative process. In other words, there's little point giving students a study skills module in year 1 and expecting it to carry them through to graduation and beyond.
Applying the principles below will help to embed strategies to develop students' feedback literacy. These principles need not supersede, and should complement, other principles of curriculum design. They include working to:
foster a culture that promotes constructive dialogue about marks and feedback (staff and students as partners)
consider how your curriculum design and communication can open up opportunities for students to apply, and potentially further reflect on, the feedback they receive
consider how your assessment design opens up or closes down opportunities for developing relevant skills; make

the most of opportunities to embed assessment for learning principles, which require students to reflect on their learning and identify opportunities for improvement, such as authentic assessments

e

xploit the learning potential of feedback such as designing in opportunities for feed forward
provide students with many, and different, opportunities to practice giving, receiving, interpreting and acting on feedback (see below)
develop students' skills over time; don't make your students run before they can walk. Educate students with techniques to self-review their work as well as work of their peers in a systematic way.

Scaffold the process of using feedback, just as you would do for students' critical thinking skills. For instance, step one may be to introduce first year students to HE subject expectations.
Below is an example of a course design and how feedback literacy can be embedded in a programme.
A course design example

The figure below describes one approach to scaffolding the principles for embedding feedback literacy into an ecology undergraduate programme at the University of Otago (described in Malecka et al 2020). Note how this approach also applies authentic assessment principles. 
Curriculum design practices
Whether developing a module or a whole curriculum, consider the following approaches to developing your students' feedback literacy.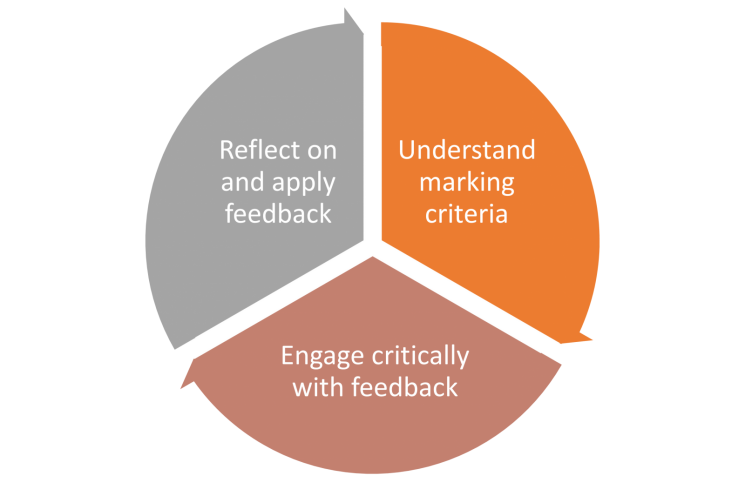 Understand marking criteria and engage critically with feedback

By understanding the role of criteria and rubrics, students will be able to engage critically with feedback. Create opportunities for your students to:

familiarise themselves with the marking criteria and understand the language used
analyse exemplars and apply marking criteria/rubrics
engage in peer review (individually or in groups), such as of fellow student drafts or submissions, or a paper from an academic journal
undertake peer assessment
engage in self-assessment, for instance, by requiring students to assess their own work against the given assessment criteria (which they might submit as a cover sheet with their assignment) or contributions to a group project
co-construct and apply marking rubrics. See examples in Flexible Assessment.

Reflect on and apply feedback

Create opportunities for your students to:

discuss how insights from analysing the work of others (such as exemplars or being asked to provide feedback to their peers) have changed how they approach their own work
submit assignment cover sheets, identifying areas they were least confident in/would like feedback on, or aspects they have tried to improve based on previous feedback. Provide pro-formas or prompts
reflect on how they applied feedback on drafts, such as by including a reflective piece as part of the portfolio of assessment task. It could be useful to provide prompts to support this reflection.
How can learning technology help you?
Learning technology can help you in a number of ways, such as:
posting project ideas and sharing peer feedback using asynchrous discussions in Canvas

utillizing the Canvas peer assessment tool

using Applications like RM Compare to engage students in making productive evaluative judgments (and, maybe, reducing marking loads for staff).
References and further reading
Find further information from: